Office of Planning & Budgeting
Internal Data Resources
If you have questions about UW data resources, please contact us at uwir@uw.edu.
Return to: Institutional Data & Analysis (main page)
---
Reports and Visualizations
UW Enterprise Data Warehouse and VPN access is needed to view these reports and dashboards. 
This platform houses operational reports and interactive dashboards displaying longitudinal trends about students, faculty, research, and finances. While you can browse the catalog of reporting and analytics tools with your UW netid, you need an ASTRA role and permission to access reports, dashboards, and cubes on the BI Portal. For more information or access requests, please email help@uw.edu.
Faculty and deans can interact with views demographic shifts and trends among faculty populations. The dashboard allows for filtering based on faculty rank, department affiliation, and demographics.
Deans and administrators can view faculty salary trends by rank, title, and CIP codes as compared to an aggregate AAU peer group.
A set of dashboards that allow users to examine unit level instructional activity as broadly compared to similar disciplines at other AAU institutions (using the Delaware Study methodology).
A tool designed to allow deans/chancellors and their approved delegates to view faculty applicant pool demographic data by position for any current searches. Note: access to this tool is driven by MOU signed annual by deans/chancellors.
Academic (e.g., Enrollments, Retention Rates, and Completions) and Financial (e.g., Revenue, Expenses) dashboards comparing UW institutional data to to AAU and US News Top Public Research Institutions.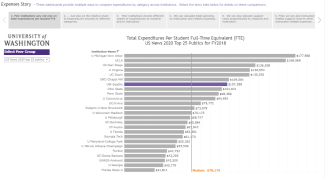 Dashboards displaying trends in tuition rates, costs, and net price for UW student populations as compared to AAU and US News Top Public Research Institutions.
A set of interactive dashboards for deans and administrators looking at trends in SCH, Degree/Major activity, and tuition revenue trends by tuition group and category.
Publicly available ABB trend reports and dashboards are available here: https://www.washington.edu/opb/abb-tuition-revenue-model-dashboard/
---
Summary Enrollment Statistics
UW Student Enrollment Trends
---
Presentations
Active and recent presentations to Deans, Administrators, Board of Regents, and State Legislators:
---
Tri-Campus Resources
Data resources for the entire university (Bothell, Seattle, and Tacoma campuses) are available on the Tri-Campus Resources page. This page includes:
---
UW Bothell Institutional Research
Bothell specific data and reports can be found at UW Bothell Institutional Research site.
---
UW Tacoma Institutional Research
The Institutional Data & Analysis unit no longer hosts Tacoma-specific reports. Campus-specific data and reports have moved to the UW Tacoma Institutional Research site.