Working Group Discussion Summaries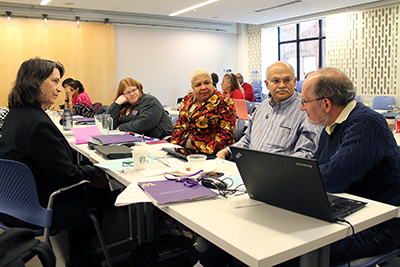 The following are examples of participant responses given to discussion questions.
What strategies used to recruit other underrepresented groups at your ERC could be repurposed for use in recruiting people with disabilities?
Offer funds to create changes in labs and accommodate students with disabilities.
Pay for students to be in internships in engineering labs.
Email recruitment information to disabled services for students, veterans' organizations, ADA office, specific school departments, high school counselors to target students with disabilities.
Educate faculty on the needs of students with disabilities, how they can be included in the lab, the benefits to hiring these students, and disability culture.
Include someone with a disability on our recruiting and leadership team.
Use peer recruitment practices.
Invite people with disabilities to go to engineering conferences and to participate in engineering events. Bring engineering topics and activities to multicultural and disability conferences.
Reach out to parents of students with disabilities to show that engineering can be inclusive.
Make sure websites and recruiting materials include people with disabilities and are designed in accessible formats.
For our Research Experiences for Undergraduates (REU) program, make sure to invite students with disabilities, partner with community organizations that serve people with disabilities, and add the ERC to the university orientation tour.
Host a sponsored field trip to invite underrepresented students to see how they can become engineers.
Make sure our application is accessible.
Increase focus on research experience for veterans and reach out to the veteran's office to promote this experience.
---
What can be done at our ERC to engage faculty and staff (e.g., web developers, curriculum and product developers, distance learning providers) with accessible IT? Where can we link to appropriate resources from our ERC website?
Look at the University of Montana Office of Civil Rights complaint and resolution regarding accessible IT and share their experiences with creating accessible products and environments; create similar procedures and templates for making accessible websites.
Contact procurement, curriculum developers, department heads, and other decision makers to make sure we are using universal design principles when buying or creating the products students use.
Create webinars on inclusion and accessibility for students, staff, and faculty.
Include accessibility information in the ERC newsletter.
Make sure we get leadership team buy-in.
Create an accessible website and make sure we promote diversity on our website.
Add universal design into engineering program major requirements.
Requests for proposals (RFPs) should ask grant seekers to address accessibility issues in proposals.
Make sure accessibility is included in our leadership meetings.
Get a seed grant to have someone come and talk to our ERC about universal design or have AccessERC leaders come share more about accessibility and universal design.
Use grant money to invite a student with a disability to intern at our ERC.
Learn the appropriate ways to bring up disability and offer accommodations.
Share AccessERC resources at the annual faculty retreat.
Link to AccessERC from ERC's diversity page, making it easy to find.
Connect with the veteran's office and share resources and opportunities.
---
In what ways can your ERC contribute to AccessERC products (e.g., website, Knowledge Base), activities (some funded by minigrants), and initiatives?
With ten years of running a successful ERC and REU program, we've had a lot of practice and studies on what works and what doesn't; we can provide input to AccessERC about across campus collaboration.
We have strong momentum from our ERC's Student Leadership Council regarding how to connect students with ERCs.
We have a lot of experience getting faculty to think about function; if you really want engineers to listen, it's helpful to show them research data.
We can contribute our email list and our knowledge of running a multi-institutional REU program.
Our supplemental grant for providing research to veterans of military service from the NSF is a great asset.
We will take back all the information learned at this CBI to other organizations around campus and teach others about universal design and inclusion. We could create publications for faculty and staff.
We will create podcasts and webinars to share the information and connect with others, including professional societies, the stem cell and life sciences communities, and REUs.
We can connect AccessERC with the Environmental Engineering Community and share information about on our website.
We think AccessERC should present to other ERCs and otherwise connect with them at NSF's biennial meeting of the ERC program.
---
How do the viewpoints of the student panelists and individuals in the documentary Fixed affect how you would communicate with, recruit, and/or work with people with disabilities in your ERC?
Be cognizant of diversity within the disability community; don't assume one person speaks for everyone and don't assume every person with a specific disability has the same accommodations.
Don't make assumptions about what a person's limitations, capabilities, or needs are.
Being people with disabilities inherently means they've overcome specific challenges and created solutions for problems; they are often already engineers and have inherent value that comes from solving issues related to their disabilities.
Identity is always complex and disability is just one part of it.
We can change how our ERC works with people with disabilities and become more welcoming to people with disabilities.
Understanding the issues makes me better able to work with everyone and make sure everyone  has an opportunity to succeed; I also have more confidence working faculty and others to explain why accessibility is important.
It's important to ask students how they want to label their disability or how they want to get accommodations.
If a student with a disability doesn't request an accommodation, don't force one on them.
If you universally design a class or lab to be as accessible as possible, many students with disabilities won't need extra support.
By inviting students with disabilities to engage with our ERC or products, we can see how they work for a variety of different people.
As an anxious person, it made me feel better to remember that people with disabilities are always people first—I should just ask them what will be helpful to them. I may learn that they may feel anxious as well.
Some people with disabilities don't want a change or to be "fixed." Before you begin to design a solution for a person, find out if there is even a problem to begin with.