Visiting the CoMotion MakerSpace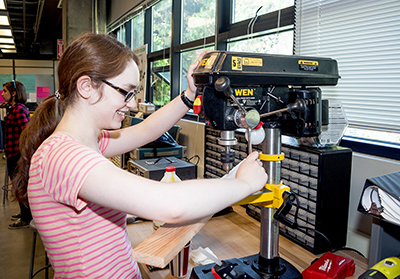 DO-IT Intern Hannah uses some of the tools in the UW CoMotion Makerspace.
Need a place to build, as well as get inspired and find your creativity? The CoMotion MakerSpace is the right place for you. The CoMotion MakerSpace at the University of Washington (UW) is a place built for UW students and the UW community to freely express their ideas and collaborate to create projects together. As DO-IT Interns, we were invited to go and experience the opportunities at the makerspace.
On the first day, we made a prototype of our ideal wallet. We worked in groups to sketch a design, and we interviewed each other on how an ideal wallet would look and function. The challenge to the activity was a 10-minute time limit and a limited amount of materials; we could only use cardboard, straws, paper clips, tapes, sticky notes and blank papers.
After the challenge, we discussed how we could make current and future makerspaces more accessible to people with disabilities. We brainstormed positive and negative aspects about the accessibility of this makerspace. One positive was that most tables and whiteboards in the workstation area used wheels, which make it easier for wheelchair users to move around in the large space. On the other hand, one of the problems was that some of the tools provided for students may not be accessible for students with disabilities, especially wheelchair users. There were also no large prints or braille signs to help people who have a visual impairment. As a group, we came up with ideas of what kind of improvements the CoMotion MakerSpace needs to improve its accessibility.
We are really excited and looking forward to see the improvements we came up with to improve accessibility for future makerspaces so both able-bodied and people with disabilities can collaborate.
[Note: A checklist for making an accessible makerspace can be found on the DO-IT website.]