University Village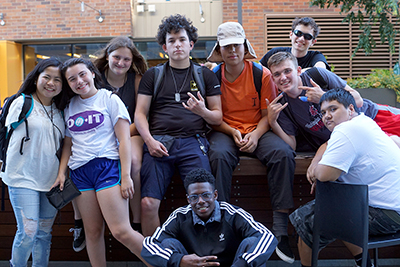 For many Scholars, Summer Study is the catalyst for making life-long friendships.
The trip to University Village (U Village) was a highlight of Summer Study. Not only did this experience give us an opportunity to get to know each other, but it also allowed us to talk about serious matters, such as our disabilities and our backgrounds.
U Village is an outdoor mall complex that is less than a mile from the University of Washington. From campus, there is a long steep hill, making it difficult for people with physical disabilities to get there. Fortunately, the DO-IT center provided transportation in vans for those who needed it. This is typical for DO-IT as they always strive to make it possible for disabled people to travel freely and participate in society.
When we got to U Village, we were split into groups. Our group went to the Microsoft Store, the Apple Store, the Seattle Team Store, the Nike Store, and Starbucks. During the visit to various stores we talked about many topics, including ourselves. Overall, the trip was a perfect gateway to create a community between the Scholars, enhancing our experience at the DO-IT Scholars program.