A Trip to Microsoft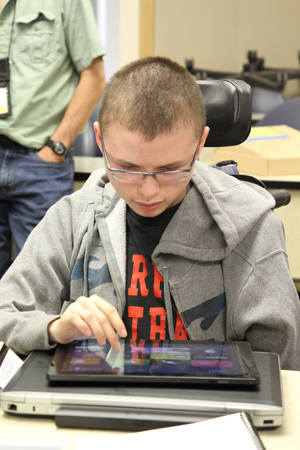 The trip to Microsoft was an exciting hands-on experience. We had the opportunity to work in the role of a product manager and plan out a new playful pet. Learning about the ways that Microsoft accommodates people with disabilities was one of the most important things to us. We appreciated that anyone, even a person with a disability, could have a hands-on experience with something special that would be shipped off to the customer.
Some of the new technology we saw at Microsoft was very cool. It was a good behind-the-scenes look at how the employees of Microsoft are working to make technology accessible for people with disabilities. Microsoft had a scenario room for people with various disabilities. The scenario room had some familiar technology as well as some technology our group had never seen before. For example, there was a scenario where the person couldn't use their arms. They had technology that allowed you to control the mouse with a dot that goes on your head. You move your head and can type and access the computer without your arms. We thought that was pretty cool. It's amazing what people can do with technology.
The trip to Microsoft was intriguing in a variety of ways, from coming up with ideas for a robotic dog to seeing how the Xbox Kinect works. It makes us wonder who came up with the idea for the Kinect and how they did it. It would be very interesting to work at Microsoft developing new software. We would like to go back someday—maybe as interns.