Tell a Tall Tale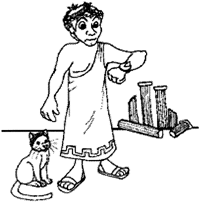 Audience
The topic for this activity is appropriate for many grade levels and is particularly entertaining for elementary school students. Campers should find this lesson fun.
Goals
By the time your campers have finished this lesson, they should be able to enter words to create an interesting story.
Web Site
Wacky Web Tales™
www.eduplace.com/tales
Presentation
Limit lecture time to allow campers time to explore at their own pace. Help campers who have difficulties interacting with the site. The list below is one way you can organize this lesson.
Present a captivating introduction to this lesson. Ask, "do you like to tell funny stories? Can someone share a funny story with the group?"
Provide an overview of today's activity, linking it to previous lessons.
Facilitate today's activity.
Summarize and discuss today's activity. Encourage campers to share their wacky stories. Print them out if you have a printer.