Scholars Create Videos on Disability Issues with Rooted in Rights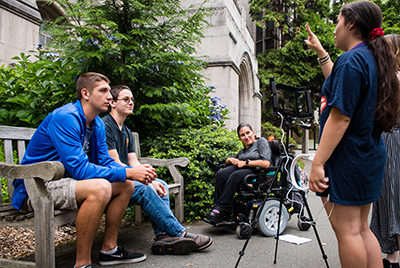 During Summer Study 2019, DO-IT collaborated with a local organization, Rooted in Rights, on one of our Phase II workshops. Rooted in Rights is a Seattle-based team that is part of Disability Rights Washington that creates videos, blogs, and other content that promotes equity and inclusion for people with disabilities. We were excited to partner with them because their advocacy efforts have inspired many people with disabilities to use their voices to make change in society.
For the workshop, students were split into multiple teams where they got to produce, film, and edit their own videos with support from Rooted in Rights staff. Not only did the Scholars learn how to create videos, they also learned how they can use these skills to create social change.
The first video, titled Pizza for All, is about the lack of access people with disabilities have in some public spaces. The Scholars in this video importance of considering accessibility by showing a group of friends who want to get for pizza lunch, but the restaurant is not accessible to people who use wheelchairs and other mobility devices.
The second video, titled Accommodations for Unseen Issues, talks about accommodations for less visible disabilities. For people with disabilities that aren't as apparent as others, getting accommodations can be difficult. Phase II Scholars Torin and Finn share their unique experiences with accessibility of physical spaces and in the classroom.
The third video, titled Pardon Me: Helpful, but not Helpful, shows how people without disabilities often assume people with disabilities need help, even when the person with a disability says they don't. People without disabilities should ask first before helping, and respect the wishes of those with disabilities if they say they don't need any help.
Rooted in Rights staff did an amazing job teaching and supporting our Scholars in making high quality and informative videos. For more information about Rooted in Rights, or to check out their videos and other content, visit https://rootedinrights.org/.