Recent Awards Received by AccessComputing Community Members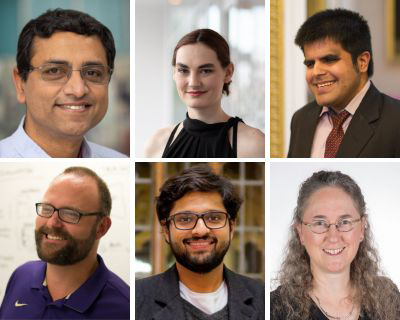 The last few months, we have been excited to see many awards given to members of our AccessComputing community.
Former AccessComputing co-PI Jacob O. Wobbrock (UW) was awarded the 2022 Ten Year Technical Impact Award in November at the ACM International Conference on Multimodal Interaction (ICMI). Wobbrock and his coauthors, Radu-Daniel Vatavu (University Stefan cel Mare of Suceava, Romania) and Lisa Anthony (University of Florida), were honored for their their 2012 paper titled Gestures as Point Clouds: A $P Recognizer for User Interface Prototypes.
In February, AccessComputing Team Member Dhruv Jain and AccessComputing Partner Megan Hofmann were both awarded the SIGCHI Outstanding Dissertation Award. Jain, who completed his PhD at UW, is now a faculty member at the University of Michigan. His dissertation considered systems to improve sound awareness for people who are deaf or hard of hearing. He was also awarded the UW William Chan Memorial Dissertation Award, which honors graduate dissertations of exceptional merit. Hofmann, now a faculty member at Northeastern University, graduated from Carnegie Mellon. Her dissertation focused on optimizing medical making.
AccessComputing Partner Susan Rodger (Duke) received the 2023 SIGCSE Award for Outstanding Contribution to Computer Science Education "for creating JFLAP, changing how the automata course is taught; and for helping to bring computing to primary and secondary schools through her work with the Alice environment." In her SIGCSE keynote "Learning How to Teach Computer Science - And Why I Teach the Way I do", she discussed her experiences with a learning disability and autism and ways it has impacted her career.
AccessComputing co-PI Raja Kushalnagar (Gallaudet University) and his coathors, Andrew Luna, James Waller, and Christian Vogler, received a best paper award for Evaluation of Anonymized Sign Language Videos Filtered Using MediaPipe at the 38th Annual CSUN Assistive Technology Conference held in Anaheim, CA. The paper discusses the need for anonymity when signing, and the different working overlays MediaPipe can offer.
AccessComputing Partner Kartik Swahney (Our Ability) was awarded honorable mention in the 2022 Lime Connect Limelight Video Contest. In his video, Kartik describes his trajectory from a young blind child to advocating for other blind children in India. From there, he attended college at Stanford and went to work at Microsoft and as an entrepreneur.