Provide Guidance to Parents.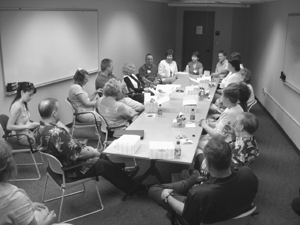 Help parents understand both the benefits and risks of Internet access for their children. Encourage parents of participants to put their Internet-connected computers in high-traffic areas of their homes. If an Internet-connected computer is in the family room or other busy area, children will be less likely to engage in inappropriate activities. They should avoid having a computer with an Internet connection in a child's bedroom; this might be a better place for a computer with educational software, applications software, and games that do not require the Internet.
Encourage parents and guardians to talk to their children about both the benefits and the dangers of the Internet. They should describe scenarios in which a child could be exposed to inappropriate resources or communications. These conversations should be periodic and along the same lines as those about where it is safe for children to ride their bicycles and what to do if a friend wants to play with his dad's gun. They need to be clear about what activities their children are allowed to engage in, what types of Internet resources are and are not appropriate for them, and what they are to do if they encounter materials that they feel uncomfortable with or that they know are unacceptable to their parents. Children should also know what they should do if a friend exposes them to Internet use they know is wrong.
Parents and guardians should tell their children not to give out identifying information (for example, their last name, home address, phone number, or school name) in a chat room, on an email discussion list, or in a message to an individual that they and their children do not both know and trust. Children should never respond to messages that are harassing, threatening, of a sexual nature, or obscene or that make them feel uncomfortable in any way. Protégés should know that mentors may be valuable resources to them but that they need to take responsibility for participating only in conversations and activities that are appropriate and report concerns to parents and the e-mentoring community administrator.
Parents and guardians should be sure their children know to never arrange a face-to-face meeting with people they meet on the Internet, even if they are mentors or other program participants, without parental permission. If a parent approves of a meeting between his or her child and a person met on the Internet, they should accompany the child and arrange to meet in a public place.
Consider supporting an e-community for parents of participants. In DO-IT, we created a discussion list, doitparent@u.washington.edu to facilitate ongoing communication between DO-IT Scholar parents and DO-IT staff.