DO-IT Disability Mentoring Day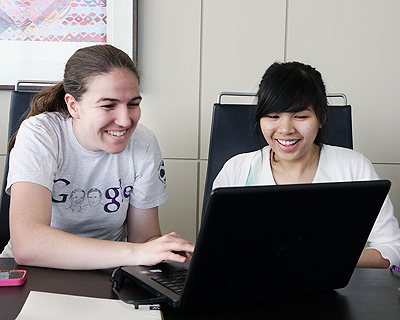 DO-IT Disability Mentoring Day (DMD) promoted career development for students and job seekers with disabilities through hands-on career exploration and job shadowing. DMD was sponsored nationally by the American Association of People with Disabilities (AAPD), and the U.S. Department of Labor's Office of Disability Employment Policy (ODEP). The generosity of corporations and other organizations also made the program possible. Each year, a day in October was selected for DMD activities to recognize National Disability Employment Awareness Month.
DO-IT's DMD affiliated with national efforts, sponsoring activities in the Seattle area. Efforts were led by the DO-IT (Disabilities, Opportunities, Internetworking, and Technology) Center at the University of Washington in Seattle. DO-IT DMD staff worked with teachers, students, and job seekers with disabilities, and employers to match young people with disabilities (Mentees) to mentors in the Seattle area. Mentees found out about the skills and education needed to be successful in careers by shadowing a DMD mentor to observe their work and learn about their career path. DMD mentors, many of whom have disabilities, were encouraged to talk about disability issues and weave that information into the career development experience.
Over 300 DO-IT DMD Mentees visited companies such as the Boeing Corporation, the University of Washington, the Federal Aviation Administration, the National Oceanographic and Atmospheric Administration, Children's Hospital, North Seattle Community College, the Transportation Safety Administration, Nordstrom, the Equal Employment Opportunity Commission, Starbucks Corporation, and Microsoft.
As stated by one high school teacher, "DO-IT Mentoring Day was fabulous for me as a special education teacher. I don't have lots of contacts in scientific or technical fields, so being able to connect students directly with a mentor in those types of companies was very effective. It sparked lots of enthusiasm from the students to hear names of big companies they are interested in." One of her students spent part of his day with a mentor with a similar disability at the Microsoft Corporation, learning about computing careers.