Pre-conference Surveys (AccessComputing: Building Capacity to Promote the Success of Students, Including Veterans, With Disabilities in Computing and Information Technology Fields 2011)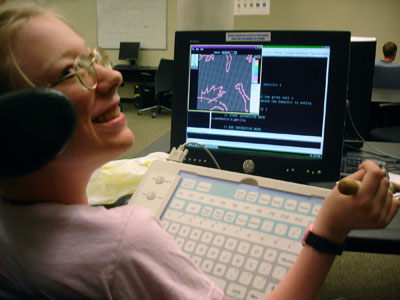 Prior to the CBI, participants were asked to complete an online survey with a series of questions about their campus and their expectations for the Capacity-Building Institute. Below is a summary of the questions and responses, edited for clarity.
What do you think are the challenges students with disabilities might face in pursuing computing and IT fields at postsecondary institutions?
Very low expectations, and misconceptions and assumptions made by faculty, staff, peers, family, and friends.
Accessibility of computing, development environments, tools, assistive technology, presentation and lecture notes, and course resources such as textbooks.
Inaccessible course content in required courses not related to the IT discipline.
A lack of role models and mentors, including those with disabilities; and clear pathways to follow.
Lack of information for hiring officials regarding the abilities, skills, and potential of students with disabilities to "do the work."
Challenges in working with disability service units.
Lack of the application of universal design principles in courses.
What are specific computing/IT access issues for students with disabilities on your campus, in your computing department, in your classes, and/or in your research projects?
Inaccessibility of campus IT environments, websites, and web-based applications.
Lack of accessible hardware and software, furniture, and classrooms.
For students with hearing impairments, a lack of interpreters familiar with technical language specific to computing.
For students with vision impairments, difficulties accessing content where graphical interfaces are required.
Faculty and staff with outdated attitudes toward students with disabilities.
Access to the expertise and resources necessary to give students access to internships, co-ops, and computing/IT-related experiences.
Lack of effective recruitment of students with disabilities.
Perception that some students with disabilities seem to need or want help.
Many courses have not been designed to explicitly support students with disabilities. Some professors are unaware of how to adapt their materials and often students simply drop inaccessible courses without advocating for their needs.
On the part of students with disabilities there seems to be a learned helplessness, lack of exposure to technology, and the belief that technical fields aren't for them.
Who on your campus engages in these issues?
University IT Accessibility Coordinator.
University-wide committee on IT accessibility to set direction, give guidance, and promote accessibility around campus.
Disability Services, Disability Resource Center, or Disability Support Services.
Student Access Services.
College Institute for Research and Training.
Math and Computer Studies Department.
Technology Learning Services Department.
Transfer Services.
All departments explore how students can better access programs and resources, and develop skills necessary for success beyond our two-year program.
An individual within the IT department.
Student Affairs.
Office for Supportive Services.
All faculty, researchers, and coaches.
Various offices.
Purchasing for procurement.
IT for web accessibility.
Equal Opportunities Services Office holds seminars for faculty and staff on disability awareness and maintains resources.
Academic advisors to help determine right combination of courses.
A University IT Accessibility Coordinator.
DO-IT Center supports students with disabilities and trains faculty and staff.
Computer Science and Engineering faculty accommodate students with disabilities in their classes.
A campus access office pays able-bodied students to take notes for disabled students.
Given that all students on our campus have learning disabilities, everyone engages directly with these issues by helping students understand their disability and realize that there are ways to overcome or work with one's challenges.
What do you want to gain from this Capacity Building Institute?
Increase awareness of the needs of students with disabilities and veterans.
Network with other professionals, develop partnerships, and gain supports.
Learn about best practices to recruit and retain students into computing fields.
Learn about proposal/funding opportunities and develop collaborative ideas that can be turned into proposals for state/federal/foundation/corporate funding.
Identify how our group can help build capacity through workshops, consulting, and specialized services.
Gain insight into how IT professionals think students with disabilities might "fit in" within their work environment.
Learn how our Information Services organization can better assist and provide opportunities for students on campus.
Learn how to specifically support veterans in the IT fields.
Better understand how universal design can be applied in the classroom.
Find out about opportunities for students on our campus.
Learn more about raising awareness of the struggles of students with hidden disabilities.
Gain knowledge of the tools available to prevent students with disabilities from feeling disenfranchised or unable to participate.
Understand the financial, institutional, and personal pressures or issues involved in making sure assistive technologies and accessible computing systems get to those who can benefit from them.
Learn how to adapt course materials and resources.
Learn about new resources that I can direct colleagues to.
Learn what methodologies and best practices I should be using to foster inclusivity in the systems I develop.