Panel Presentation Summaries Pathways to Success for Students with Invisible Disabilities: an AccessComputing Capacity Building Institute at Landmark College 2013)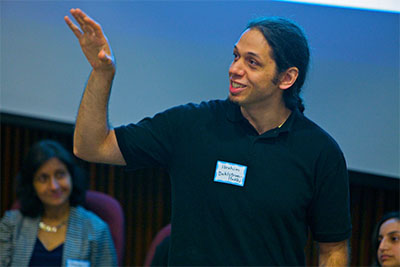 Landmark College Student Panel
Landmark College students with invisible disabilities participated in a panel discussion at the CBI. The students offered the audience comments and suggestions:
College exams do not match up well with what students will be expected to do in "the real world" after graduation. It may be better to assign project-based assessments that more closely resemble real world applications of the knowledge that students have learned.
All faculty members, including adjunct faculty and lecturers, should participate in training to learn more about how to work with students with disabilities and about support services. Universal design of instruction and accessibility should be treated as important campus-wide issues rather than as a disability services issue.
Faculty members are most likely to engage with their peers. Colleges and departments should consider having faculty liaisons that can help ensure that faculty members are knowledgeable about disability issues.
Consider setting up a system to review classes to ensure that they are accessible to students with disabilities, including those with invisible disabilities.
Landmark College Faculty Panel
Michelle Bower, Geoff Burgess, Frank Kluken, Anita Long, and Melissa Wetherby
Landmark College faculty members have a unique perspective on teaching studies with invisible disabilities since all of the students in their classes fall into this group. During a panel discussion, faculty members discussed many strategies for teaching students with invisible disabilities, including the following:
When students are completing work in class, allow them to choose whether to complete the work on their own or in a group. One or the other may work better for particular students.
Consider using PowerPoint during class and providing students with a copy of the slides before class. Students can take notes on printed copies of the slides.
Small, individual white boards can be useful for in-class work, whether students are working alone or in groups. When the work is complete, students can take pictures of the white board to use as notes.
Give students the option of using different size papers.
Consider accepting multiple stages of writing for some students to give them feedback throughout their work on the assignment. Some Landmark instructors review small parts of writing assignments and allow students to build on them.
Be sure to talk through any math that you are doing on the board. This allows students to access the visual information while also receiving the information audibly.
Allow students to use calculators. A student can demonstrate that they have learned what steps need to be followed.
During the discussion, faculty members also highlighted technology that can be helpful for teaching students with invisible disabilities:
LanSchool, which allows the image from any computer in the classroom to be displayed on a monitor.
Microsoft OneNote can help students take notes or can allow you to create a notebook that students can access.
Cloud storage through your school, SkyDrive , or Google Drive can be used to share PowerPoint slides, OneNote notebooks, or other documents with students quickly and easily.
Equation Editor is an easy way to write equations in Microsoft Word.
Livescribe pens are smart pens that create an audio recording while a student writes notes. Students can go to a specific point in the recording by touching the pen to their notes. These can be useful for anyone, not just students with learning disabilities.
Dragon Naturally Speaking is speech recognition software that allows students to type by talking to the computer.
Inspiration is a mind-mapping software that allows students to brainstorm and organize concepts.
TinkerPlots statistical software can be used for data analysis and modeling.