Panel Presentation Summaries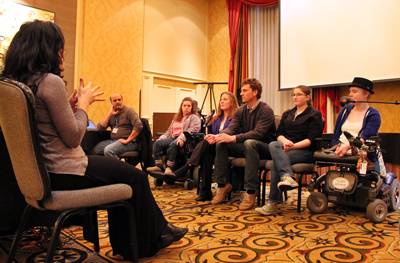 Panel: Video Accessibility 
The panel on video accessibility was facilitated by Doug Hayman of UW included four technology and accessibility specialists: Joetta Sieglock, Eastern Washington University; Karen Fusco, Olympic College; Jon McGough, University of Washington; and Kathleen Chambers, North Seattle College. Panel members made the following comments:
Videos are presented in a myriad of technologies on campus—YouTube, Panopto, Adobe Connect, Tegrity, DVD, and VHS. Because of this diversity, it's difficult to make a single workflow for captioning and making all video and media accessible. 
Even though captions are critical to ensure videos are accessible to deaf students, advocates in some schools have a hard time getting the support and funding to caption videos.
Captioning is currently very similar to the situation 25 years ago when buildings didn't have ramps and physical access was a huge accessibility barrier—now you won't find a building without a ramp or elevator. Video accessibility is one of the current major challenges on our campuses.
Can campuses from across Washington State work through one vendor for captioning to secure a reduced cost per minute of captioning?
If you have an old video without captions, look for a newer version that might have captions.
Voice recognition software could be used to create a draft version of captions for a video and then student workers could be hired to clean them up. 
There is more to video accessibility than just captioning—audio descriptions for videos are important to ensure accessibility for individuals who have visual impairments. HTML5 supports audio descriptions.
Content and media needs to be prioritized. Anything that will be visible to the public should be top priority and made accessible first; internal videos can be made accessible on an as-needed basis. Videos used in classes that have a deaf student enrolled should be captioned, but other videos should be captioned as a good teaching practice.
One of the first steps towards getting accessible media is getting people motivated and excited about captioning and universal design. Most faculty genuinely enjoy helping their students learn, and by helping them see how captions can aide all students, we can get them excited to make their products accessible.
Able Player is an open-sourced accessible video player that is currently in development. Visit terrillthompson.com/ableplayer for more information.
What can be built into LMSs to keep accessibility in the forefront? Can they alert the user when a feature is inaccessible?
---
Panel: Student Perspectives
Five students—Cindy Bennett, Kayla Wheeler, Macy Westrick, Alicia Teasley, and Tony Ive, who have diverse disabilities—shared the types of technology they use and what ensures that they have access. 
What technology do you use on a regular basis?
Surface tablets are lightweight and have a small keyboard, making them easier to use and carry around for some individuals with mobility impairments.
Speech recognition software like Dragon Naturally Speaking and a standing microphone let me type much faster than I would normally with my limited mobility.
Sticky Keys, a feature included in Microsoft products, allows me to hit multiple keys at once with only one finger, because it continues to "hold" the key down after it's pushed. This feature allows me to use normal keyboard shortcuts and other simple keyboard functions.
E-readers, like the Nook, Kindle, and even the iPad, are great for reading PDFs of textbooks and class readings, so I don't have to carry a large number of heavy textbooks. 
As a deaf student, I use my Surface tablet for real time captioning, and I also use a note taker in class so I can focus on the captions without feeling like I'm getting behind.
As a student who is blind, a braille display lets me read text. I also use Jaws, which is a screen reader that provides me with speech output.
I use Microsoft OneNote to organize all of my notes. It allows me to gather information and organize it in a way that makes sense to me.
My iPhone has great accessibility features built into it. It has a pretty good screen reader called VoiceOver, and also registers gestures I use over the screen.
Google Apps for Education used to be very inaccessible, but lately they have made great strides in becoming much more screen reader friendly, so group work can be done more efficiently.
LiveScribe, a pen that records audio that is linked to written notes, gives me the freedom to not worry that I am missing class material.
What is the biggest difficulty you face while using technology?
The biggest issue with all visual and text-based documents and web technology—PDFs, websites, LMSs, Google apps, Word documents, and videos—is when they aren't screen reader friendly. Faculty and others don't usually realize when they are using inaccessible material in class, and for those of us who using a screen reader is absolutely necessary, this means we cannot use the material.
Not having captions for videos makes a lot of content inaccessible to me as a student who is deaf. Faculty will sometimes rely on YouTube's auto-captions without editing them, which don't work well or solve the problem.
If you are in an environment where there is a lot of background noise, or a place where you have to be quiet (e.g., the library), then it can be very hard when you depend on Dragon Naturally Speaking or other speech recognition software. In a loud environment, it picks up everything going on and doesn't distinguish very well between the speaker and the background noise.
It's not welcoming when a faculty member declares a class to be a "no tech" classroom. While I understand the concept, it isolates and alienates those of us who have to use technology to manage our disability. I've had a teacher call me out on using technology, which meant I had to disclose my disability to the entire class, making me feel very uncomfortable.
What's your biggest wish?
For faculty and staff to understand that accessible technology exists and that students use it. For example, if they are providing a PDF file, there needs to be a text-selectable, tagged, accessible version of that PDF.
For YouTube captioning to be better. I have friends who can just search on YouTube and teach themselves with educational videos; if videos are not captioned, I have to go to the tutoring center or the professor to receive the same opportunity.
That all schools used the same technology tools. There are a myriad of different systems, software, and learning management systems, each with their own accessibility issues. Just taking the time to learn each different tool and find how to make them work for me is tedious.
That faculty, instructors, vendors, and staff were educated on accessibility.
That instructors made sure all homework is accessible before it is given to the students.