Panel: Perspectives of Students and Instructors with Disabilities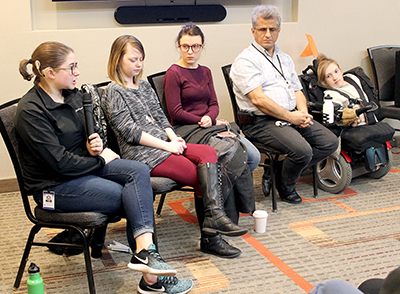 Facilitated by Sheryl Burgstahler. This panel featured students and instructors with a variety of disabilities that included those related to sight, mobility, hearing, and learning. Below are questions posed and a summary of answers provided by the panelists.
What accommodations do you use?
I use captions and a note taker.
I need slides and notes shared digitally and tagged for a screen reader.
I have audio book format for reading, spell checker for exams, and/or longer time so I have more time to write and spell out works. Grammarly is very helpful.
Computers are very helpful, but also cause problems. If people aren't creating accessible technology, then technology is only creating another barrier to education.
What should online learning developers and educators consider?
Offer multiple ways to gain knowledge, such as through a video paired with printed materials.
Provide all materials that are accessible to students with disabilities at the same time they are provided to other students.
Caption videos to benefit a wide variety of students, including English language learners, those in noisy (e.g., airports) or noiseless (e.g., libraries, buses) environments, individuals who want to search content, in addition to people with hearing and learning disabilities. 
Design videos to include audio content for visual elements of a video whenever possible (e.g., have the credits and other information at the end of a video spoken by the narrator) to maximize access for individuals who are blind or otherwise cannot see the screen. Consider adding audio description to describe other key elements of the content presented visually.
Provide text descriptions for all visuals.
Use accessibly-designed documents (e.g., PDFs, PowerPoint slides).
Engage with students in multiple ways. 
In online discussions, to help students, especially those with learning and communications challenges, provide a specific focus to each discussion question, provide guidance in how to answer the question, engage in and guide the discussion, and summarize the group of responses.
For any on-site components of a course, make sure the facility can be easily maneuvered with a wheelchair.
What issues do you have that you need a solution for?
I recommend adding more diverse graphics and diverse methods for learning or methods to input into a discussion.
As a student with a disability, I'm often expected to have the solutions to my problems when I approach a professor. I would like more help in finding those solutions.
I wish there were more organic and easy ways to communicate with the professor. When I'm online, I can often feel alone in my learning, and it would be nice to feel more connected and like it was easier to ask questions and communicate with other people.
Online learning can feel unfriendly. Teachers often seem closed off to communication. I'd love to have more relationship building with my peers and teachers online. Online learning can often be very compartmentalized.
Wheelchairs can sometimes not fit in physical rooms for classes. I often get shoved in a corner and can't move for the entirety of class. I'd like classes to be designed more accessible just in the physical aspect.
Academia isn't always updated. People can use outdated terminology or don't update their understanding of a subject.
Professors aren't always uploading accessible content to their LMS. How can we ensure that all content being uploaded is accessible? There are not enough incentives to professors to do this.
How do you interact with your other students and peers in online learning?
I went to smaller schools that helped promote peer engagement and discussion. I really needed this engagement to help me understand the materials we were reading and studying. My peers can help me discover way more by bringing different sides and nuances to a subject.
As an instructor, I host more discussions and promote student engagement. A lot of students attend online classes because they don't have time to attend a class—how do you get students to have an engaging conversation? The educator needs to promote that.
How do current digital learning research and practices contribute to the exclusion and marginalization of individuals with disabilities?
Classes that use Google or other collaboration tools are often inaccessible to students with specific disabilities.
Since accessibility became a legal liability, many faculty and staff on campus can be scared to deal with accessibility issues for fear of the legal liability, and then no one gets direction or feels empowered.
Professors often feel overloaded with online classes and don't have time to meet with students, connect, or provide accommodations.
Professors claim they don't have students with disabilities and therefore do not feel responsible for accessibility. Community is then not built because students don't feel comfortable disclosing.
There can sometimes be high costs for captioning and other services; however, the more demand there is for a service, the cheaper and better a service can be. If we all demand captioning, it will become the norm.
I often don't get to meet people in my online classes, I need to have names reiterated.
Faculty get very little training. Faculty need to join forces with Disability Resource Services and Teaching and Learning Centers—if we can partner, we can offer more accessibility and universal design training.
Students often have to manage their own accommodations. Faculty are often unaware, and students have to walk the faculty through giving them their accommodations. Students may need training on how to manage these relationships.
Most faculty have never been trained in using technology. Some don't even know how to copy and paste. If a faculty member can't even handle the basics of technology, they often can't make accessible content for their students.
There's no incentive structure for faculty to make their courses more accessible. We need accessibility standards for teaching online and quality checks to pass.
What challenges do students and instructors with different types of disabilities face in using current and emerging digital learning tools and engaging in online learning activities? How do current digital learning research and practices contribute to the exclusion and marginalization of individuals with disabilities?
When a course is fully online, it is hard to make connections between the students and faculty. People don't feel as comfortable sharing as much when they can't have smaller conversations or share about themselves more readily.
It can be hard to use a type of technology if it doesn't work with my assistive technology. For example, Blackboard was more accessible in its early days; however, it never updated as times went on, and now it is behind current accessible technology.
In discussion boards, students need to be taught how to simplify their responses and make sure they are connected back to the original question, not just by visual alignment, but in a text-based manner, since many screen readers won't tell the listener about the formatting of these discussion boards.
Electronic does not mean accessible. A lot of technology and software cannot be used by screen readers.
NSF program officers are not necessarily supportive of including disability as a perspective for grants that focus on minority groups. Disability needs to be considered a diversity issue.
In online discussions, it can be hard for students to parse out meaning and feeling behind a comment. This is especially hard for people with learning and emotional disabilities. Educators should lead the students in how to answer questions, give information, and parse out responses.
More thought should be given to invisible disabilities. It can be hard for technology designers to think about invisible disabilities when designing, since people with invisible disabilities have a wide range of needs and how they use different tools can be a bit more ambiguous.
The students we hear from are often the successful students with disabilities, not those who have been failed by the system.
Deaf students and students with learning disabilities can often feel left out in a text heavy world. If there aren't other modes of learning and interacting, students with disabilities may get left out or feel left behind in discussion.