Pacific Science Center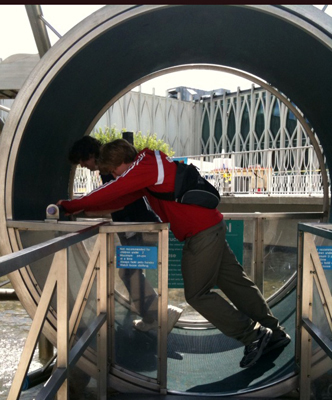 '09 Scholars, Josh and Louis explore the giant water wheel at the Pacific Science Center.
On Saturday, July 18th, the Phase I DO-IT Scholars and Interns traveled to the Pacific Science Center, located in the scenic Seattle Center. After arriving early and getting situated at the unique multi-structured building, we were free to travel throughout the exhibits in small groups, exploring at our leisure.
Between our arrival and lunch, we entered the dinosaur exhibit, which features many life-size models and hands-on activities. Next, we traveled to the bug exhibit, right in time to handle live Madagascar Hissing Cockroaches and listened to a cockroach lecture. After that, we passed through the butterfly house, exploring numerous rare butterflies and the habitats in which they live. Following that, our group went to the Shadow House, a unique exhibit where a shadow of an image is shown on the wall. Next, we traveled to the exhibits that contained live animals, from naked mole rats to large snakes. After that, we toured the gift shop, wrapped up our exploration through the exhibits, and headed outside to a large, open courtyard where the whole group met and had lunch, which also provided a good time for socialization.
When lunch was through, we traveled to the Boeing IMAX Theater to watch Transformers: Revenge of the Fallen. The movie turned out to be action packed, and it was enjoyed by many of the Scholars and staff alike. The IMAX provided a brilliant picture and invigorating surround sound, which completed the movie experience. Following the exciting film, we traveled to the Adobe Laser House to view a unique Beatles Laser Show, which played classic Beatles songs, accompanied by a rhythmic laser show, adding a visual to the classic music. Following the show, we left for the busses and came back to the University of Washington. Wow! What a great day.