Online Accessibility Tools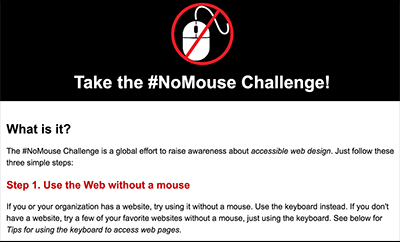 A fully accessible web video player. Compatible with YouTube.
Comprehensive resource for web accessibility information and resources. They provide accessibility training, website certification, technical assistance, and more. This site also has WAVE, a tool for checking the accessibility of a website.
A guide for creating an accessible and welcoming classroom, both online and in person.
A diagnostic tool for testing the accessibility of a website.
This site describes how you can conduct basic accessibility tests of your website by attempting to navigate it using only the keyboard. (The folks at DO-IT suggest taking this one step farther and attempting to navigate the site using only one key at a time.)
One of several free screen readers available. It is open source but only works with Windows. 
Another screen reader option. This one also works only with Windows. 
A tool for making sure you are coding something accessible from the beginning. It runs as part of a JS library. 
A paid captioning service.