NSF Regional Alliances for Persons with Disabilities in STEM Education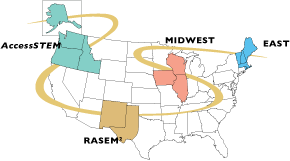 AccessSTEM is one of several regional alliances funded by the National Science Foundation (NSF) to increase the successful participation of people with disabilities in academic studies and careers. Each Regional Alliance for Persons with Disabilities in Science, Technology, Engineering, and Mathematics Education (RAD) sponsors STEM activities, transition to college/careers programs, mentors, summer programs, and other activities for youth with disabilities. They also provide training and support that can help teachers, postsecondary faculty, employers, and project directors make their STEM courses and resources accessible to students with disabilities. In summary, RAD activities:
prepare students through transition workshops, summer programs, online mentoring, peer support, internships, etc.
improve accessibility and acceptance in courses, employment, technology, programs, etc.
Regional Alliances
The following is contact information for each RAD. A map of their locations can be found above and on the back cover of this publication.
AccessSTEM
University of Washington
Box 355670
Seattle, WA 98195-5670
206-685-3648
206-221-4171 (FAX)
www.washington.edu/doit
doit@u.washington.edu
Key Staff:
Sheryl Burgstahler, Director
Scott Bellman
Lyla Crawford
Michael Richardson
Valerie Sundby
EAST
University of Southern Maine
37 College Avenue
Gorham, ME 04038
207-780-5449
207-780-5129 (FAX)
llovewell@usm.maine.edu
Key Staff:
Lynn Lovewell, Director
Libby Cohen
Samantha Langley-Turnbaugh
MIDWEST Alliance
University of Wisconsin - Madison
338 Goodnight Hall
1975 Willow Drive
Madison, WI 53706
608-262-6467
608-262-6466 (FAX)
www.stemmidwest.org
midwest@mailplus.wisc.edu
Key Staff:
Alice Anderson, Director
Alicia Blegen
Amy Fruchtman
Jay Martin
Josh Morrill
Greg Stefanich
RASEM2
New Mexico State University
PO Box 30001/Dept 3CE
Las Cruces, NM 88003
888-646-6051
505-646-3367 (FAX)
belowery@nmsu.edu
Key Staff:
William McCarthy, Director
Randy Larry
Belen Lowery
Ed Misquez
Jackie Sanders
Richard Turietta
RDE
Contact information for RDE is listed below.
Research in Disabilities Education
National Science Foundation
Mark Leddy, Program Director
703-292-4655
703-292-9018 (FAX)
www.nsf.gov/funding/pgm_summ.jsp?pims_id=5482&org=NSF&sel_org=N
mleddy@nsf.gov