How You Can Engage with DO-IT
The DO-IT Center hosts a variety of projects and programs, including AccessComputing, AccessSTEM, and DO-IT Scholars. Supported activities are varied and offer opportunities for involvement by students with disabilities, practitioners, parents, and others who are interested in helping students with disabilities be successful. Some of the specific ways that you can be involved are described below.
If you are a student with a disability…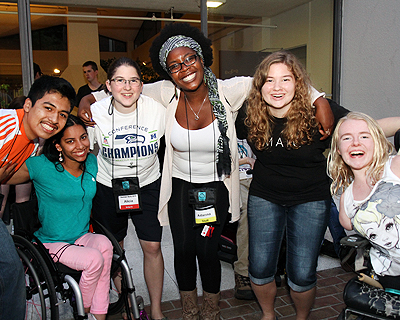 Being a part of the DO-IT community can provide you with the resources, support, and opportunities to help you prepare for college, succeed in a postsecondary institution, and transition to a career. To find applications for the opportunities below, visit DO-IT's Programs page.
If you are a K-12 or postsecondary educator, employer, or other adult interested in promoting the success of students with disabilities or connecting with others in the disability field…
There are many ways for you to become involved with DO-IT.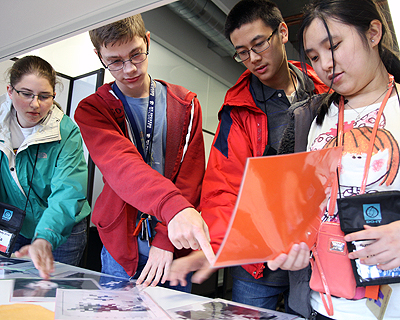 For further information on how you can become involved, email DO-IT.
About DO-IT
DO-IT (Disabilities, Opportunities, Internetworking, and Technology) serves to increase the successful participation of individuals with disabilities in challenging academic programs such as those in science, engineering, mathematics, and technology. Primary funding for DO-IT is provided by the National Science Foundation, the State of Washington, and the U.S. Department of Education. DO-IT is a collaboration of UW Information Technology and the Colleges of Engineering and Education at the University of Washington.
Grants and gifts fund DO-IT publications, videos, and programs to support the academic and career success of people with disabilities. Contribute today by sending a check to DO-IT, Box 354842, University of Washington, Seattle, WA 98195-4842.
Your gift is tax deductible as specified in IRS regulations. Pursuant to RCW 19.09, the University of Washington is registered as a charitable organization with the Secretary of State, state of Washington. For more information call the Office of the Secretary of State, 1-800-322-4483.
To order free publications or newsletters use the DO-IT Publications Order Form; to order videos and training materials use the Videos, Books and Comprehensive Training Materials Order Form.
For further information, to be placed on the DO-IT mailing list, request materials in an alternate format, or to make comments or suggestions about DO-IT publications or web pages contact:
DO-IT
University of Washington
Box 354842
Seattle, WA 98195-4842
doit@uw.edu
www.uw.edu/doit
206-685-DOIT (3648) (voice/TTY)
888-972-DOIT (3648) (voice/TTY)
206-221-4171 (fax)
509-328-9331 (voice/TTY) Spokane
Founder and Director: Sheryl Burgstahler, Ph.D.
Copyright © 2015, 2012, 2011, University of Washington. Permission is granted to copy these materials for educational, noncommercial purposes provided the source is acknowledged.