Nils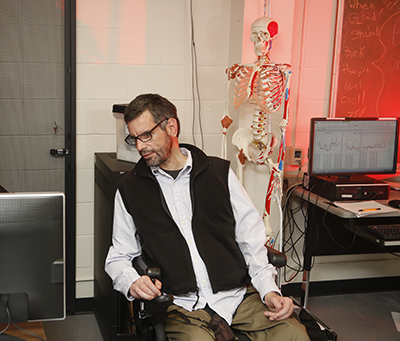 I have muscular dystrophy, a hereditary disease that causes the muscles to weaken over time. Perhaps as a result of my family's history with disability, or maybe just due to other influences, I have always been fascinated by methods people use to interact with physical environments. After a chance encounter over twenty years ago, I was able to translate this interest into a career path. I met a graduate student, named Ronny Gaal, who was evaluating power add-on units for manual wheelchairs with the San Francisco State University (SFSU) Rehabilitation Engineering Technology Training Program. Having just returned from living and working in Beijing for the previous three years, I was happy to learn that there was an opportunity to pursue studies that combined my interest in human movement with assistive technology.
I enrolled in the yearlong training program at SFSU and then continued taking courses in kinesiology, motor control, and engineering mechanics with the notion of continuing my education. I was very interested in designing devices and technologies that facilitated interaction with the surrounding environment for individuals with disabilities and the population at large. I thought that if I could understand the fundamentals of human movement and identify elements that were common to everybody, independent of their ability, I could create devices and technologies that would work for everybody; I was a universal design idealist. In this quest, I pursued my doctoral degree in biomedical engineering (biomechanics) at the University of California, Davis.
During my research on electrical stimulation pedaling for individuals with spinal cord injury, it became apparent that though people may be diagnostically homogenous, they are functionally diverse. My idealistic notion of a common foundation of movement had been burst, at least partially. I am now an assistant professor in the Biomedical Engineering Department and director of the Human Biomechanics and Design Laboratory at Wichita State University. I suppose I'm a bit quixotic with a touch of stubbornness, but I am still working to understand how people move with the goal of creating devices and technologies that work for everyone.