New Grant to Continue DO-IT's AccessCyberlearning Project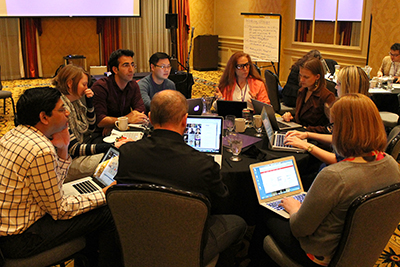 AccessCyberlearning will continue it's work for an extended year with a focus to help NSF research projects to develop accessible technologies for next-generation online learning courses. AccessCyberlearning 2.0 will engage an interdisciplinary team in an online community of practice and a 2.5-day synthesis and design workshop to conduct exploratory research that answers the following questions:
What challenges do learners with different types of disabilities face in using current and emerging digital learning tools and engaging in online learning activities?
How do current digital learning research and practices contribute to the marginalization of individuals with disabilities?
What advances in digital learning design are required to support multi-modal learning and engagement that is fully accessible to and usable by students with disabilities?
What specific actions can digital learning researchers, funding agencies, educators, and other stakeholders take to systematically address issues with respect to disabilities?
The workshop aims to synthesize and integrate existing research related to the accessibility of digital learning to students with a variety of disabilities; produce a white paper that addresses the research questions and contributes to the development of forward-looking, highly adaptable, distributed, and collaborative digital environments; and develop guidelines for how researchers can address disability/accessibility-related issues with respect to (a) designing and testing new technologies, (b) analyzing and reporting outcomes, and (c) designing project activities and resources.