Neurobiology Labs
During the last week of Summer Study, we spent time in Dr. Marti Bosma's Neurobiology lab and with Dr. Steph Bucks and Dr. Hiro Watari in the Neurobiology course labs. We learned a lot about key parts in sensory systems and about how substances affect the heart and brain.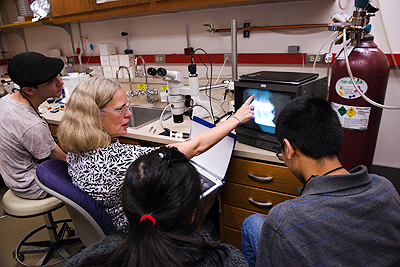 Phase II Scholars view data on a monitor with an instructor during Summer Study 2014.
With the help of undergraduate researchers Jesse, Mitchell, and Michael in Dr. Marti Bosma's lab, we learned about the effects of nicotine on the brain and heart of eleven-day-old mouse embryos. We started with the complicated process of dissecting teeny tiny embryos to reveal the still beating hearts and active brains. We then used a vast array of technology to administer and observe how different levels of nicotine changes the way the heart and brain function normally. This experiment helped us prove that smoking cigarettes has negative effects and will eventually destroy your heart and brain. Our experiments also showed us that a mother who smokes cigarettes can have an extremely catastrophic outcome for her unborn child.
We spent the rest of our time examining how the sensory systems of cockroaches work with the guidance of Dr. Steph Bucks and Dr. Hiro Watari. We started with attaching a cockroach leg to electrodes that measure sensory responses. We then measured the neuron signals we got from probing the leg spines on the electrodes. After doing this, we observed that the sensory systems of the cockroaches eventually adapted to the stimulus. This taught us how truly complex these creatures are in their ability to adapt to the environment around them.
Our Phase II Scholars, Rahil, Ryan, Clarissa, Alex, and Michael learned a lot and enjoyed every second of this opportunity. We want to give a special thanks to all the instructors for volunteering their time to teach us about their studies of neuroscience.