My DREU Experience
This year, I had the opportunity to participate in the Computing Research Association's Distributed Research Experience for Undergraduates (DREU) through AccessComputing. I have been involved in AccessComputing since my sophomore year, attending the CS@UW+AccessComputing research workshop in the spring of 2019. Prior to my participation in this workshop, I never thought of research as a viable path for me.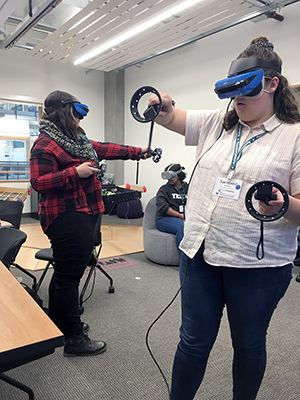 At CS@UW+AccessComputing, I had the opportunity to participate in research-based projects under Professor Anat Caspi, head of the University of Washington's Taskar Center for Accessible Technology (TCAT). During the weekend, I was able to participate in research seeking to make Virtual/Augmented Reality accessible to individuals with motor impairments. The way that I learned my brain could ask questions, seek solutions, and learn along the way opened my eyes to the possibility of research in my future. 
After conducting independent research at the University of Puget Sound, my home institution, in the summer before my junior year, I knew that participating in the DREU was something that I wanted to pursue. Just before applying to the DREU, AccessComputing provided me the opportunity to go to the Grace Hopper Celebration (GHC), which enabled me to find a community that sustained me throughout my undergraduate coursework. 
When applying for the DREU, I knew that I wanted to conduct research in the areas of human computer interaction and/or accessible technology. Because of my exposure to these fields at the research workshop, I began to notice not only a growing passion within myself for this work but also the gaps at my home institution. For this reason, I knew that the DREU was my next step. 
After the application process, I was paired with a faculty mentor. I was delighted to learn that I would get to work with Professor Caspi again. Once we started meeting to develop a plan for my DREU, I was amazed at the amount of agency I had over what I would be working on. 
Ultimately, I started working on the Taskar Center for Accessible Technology's OpenSidewalks Project, which focuses on pedestrian-based transportation networks and access to pedestrian-centric infrastructure. My project fell under the OpenSidewalks Project's efforts to ensure equitable data collection regarding pedestrian networks. 
I was tasked with developing a prototype for an app to collect information on the accessibility for pedestrians at various intersections. The goal of the project was to develop an Android application that could be used by any user to document the presence of various accessibility features at the intersection (such as Accessible Pedestrian Signals, curb ramps and curb ramp placement, and traffic speed). A key interest was in how to collect consistent data when trying to gain insight on somewhat subjective topics (such as whether traffic is going above or below the speed limit). 
In addition to thinking about this question, I spent a large chunk of my summer learning how to create an Android application that would be intuitive for users. I ultimately developed a functional app and gained experience in user testing, design, and research. 
Through my participation in the DREU, I gained research experience in areas that I did not have access to at my home institution, gained a faculty mentor, and got to meet and be a part of a lab. I was fortunate to attend the Tapia Celebration of Diversity in Computing and present my research at Grace Hopper. This was such an amazing experience, and I cannot express enough how grateful I am to AccessComputing, the Computing Research Association, and Professor Caspi for fostering my growth as a researcher this summer. If you are interested in learning more about my DREU experience, or reading the final report, you can visit my DREU site.
(Photo on this newsletter page is from CS@UW+AccessComputing 2019).