In Memory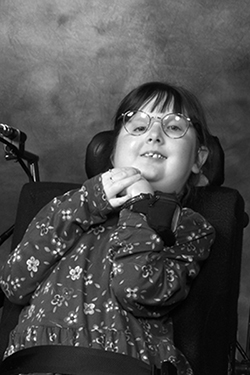 Sarah Lynn Steele, '01 Scholar
It is with sadness that we share the loss of 2001 Scholar Sarah Steele. Sarah passed away in Seattle on November 14, 2017, a few weeks before her 33rd birthday. Sarah was a graduate of Lake Washington High School (LWHS) in 2003 and Seattle Pacific University (SPU) in 2007.
She was born with a rare musculoskeletal disease, fibro-dysplasia ossificans progressiva (FOP). Toxic shock syndrome and respiratory failure claimed her life. She was the beneficiary of extraordinary medical care throughout her life, and her family wishes to express both gratitude for her many caregivers and outrage at a national healthcare system that denies care to so many.
Sarah's joy in life and optimistic outlook were undimmed by the challenges she faced. She was an active member of the International Fibrodysplasia Ossificans Progressiva Association and had friends all over the world. She had a lovely voice, a sweet smile and a radiant, outgoing personality. She loved to sing, and was a member of the LWHS Concert Choir, the SPU Women's Choir, and the Lake Washington United Methodist Church Chancel Choir. She also loved movies, theater productions, detective novels, shopping, handcrafts, keychain collecting, and chocolate. And she herself was loved by all who knew her.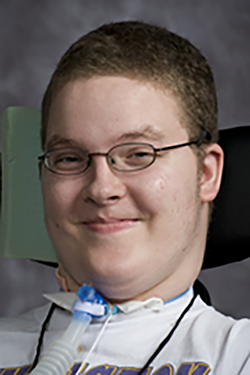 Wesley Strong, '08 Scholar
We are sad to report that Wesley Strong passed away in April 2018. Wesley loved psychology. He joked that he wanted to be the next Dr. Phil. After graduating from Napavine High School, he took online college classes in his area of interest. Wesley aspired to work with families and children or in the field of drug addiction. We will always remember Wesley for his sense of humor and playful nature.