Meet the 2020 Scholars!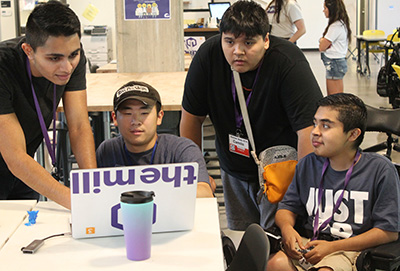 Social and medical crises of the last few months have led many of us to feel like everything has changed! Statistics, social distancing, hand sanitizers, facial masks, and protests dominate the daily news. As each day seems to bring a new "normal," we have all been challenged to achieve balance in our lives that addresses our personal needs as well as those of others in order to create a more equitable and healthy world for everyone. These concerns have tested DO‑IT's agility as we adapted our DO-IT Summer Study—which, for twenty seven years, has been offered on the University of Washington campus—to an online program. Information about the award-winning DO-IT Scholars can be found at uw.edu/doit/programs/do-it-scholars. We are learning how, even with major changes in delivery, some things have not changed: DO-IT can still provide participants with opportunities to learn about postsecondary education, life on a college campus, challenging academic and career fields, networking, and technology as an empowering tool, as well as have some fun along the way.
I am pleased to introduce to you the 2020 Scholars:
Angela enjoys taking science and history classes at Mountlake Terrace High School. To prepare for a career in medicine or biochemistry, she is planning to earn a masters degree in biology or chemistry. Angela has spinal muscular atrophy.
Anthony attends Shorewood High School, where his favorite courses are mathematics and Mandarin. He enjoys Mandarin because he has traveled to China and likes the culture and language. Anthony has autism. After he graduates from college, he wants to work in a tech field.
Audrey attends Redmond High School. Her favorite courses are physical education and art. She wants a career that involves art, possibly creating animated movies, TV shows, and games. Audrey has autism.
Braxton enjoys taking English and foreign language courses at Ridgefield High School. After high school, Braxton plans to attend a 4-year college to get a degree in linguistics to prepare for a career in computational linguistics. Braxton has cerebral palsy.
Charlie, who has cerebral palsy and a speech impairment, attends Edmonds Woodway High School. His favorite subjects are computer science and science. Charlie wants to work in a field that involves computers and possibly working for Microsoft one day.
Clarice enjoys English and chemistry courses at Newport High School and likes to read books and write essays. In the future, Clarice is interested in being an elementary school teacher or a caregiver. Clarice is deaf.
Esteban attends Quincy High School, and he has a vision impairment. He enjoys ceramics and science. After high school, Esteban wants to attend a 4-year college to study animation or something in the medicine field.
Ethan enjoys taking physical education and history courses at Sammamish High School. Ethan plans to attend college to prepare for a career in journalism, video production, and sports media. His dream career is to be a sportscaster. Ethan has autism.
Iris attends Quincy High School and enjoys math and art classes because they inspire her to do new things. After high school, Iris plans to attend a university to prepare for a career in a medical field. Iris has a vision impairment.
Mallory enjoys taking American Sign Language and history. She attends Sedro-Woolley High School. Mallory has a learning disability. She enjoys working with kids, volunteers in a classroom, and plans to become a teacher in early education.
Manuel goes to school at Eastside Academics, where  his favorite courses are biology and health. He plans to study biology, mental health, and nutrition in college. Manuel's career goal is to become a therapist. Manuel has anxiety, attention deficit hyperactivity disorder (ADHD), and autism.
Marcos enjoys studying computer science and chemistry at Mountlake Terrace High School. Marcos is interested in programming and looks forward to developing his own computer programs. Marcos has a learning disability.
Mariana attends Summit Atlas Public School where math and English are her favorite courses. Mariana has a learning disability. Mariana wants to attend a university and become a veterinarian.
Matthew enjoys Science Olympiad and his history class. At Raisbeck Aviation High School, Matthew completed two Teen Police Academies, and wants to study criminal justice at a university. Matthew has dyslexia.
Michael attends West Seattle High School and has ADHD, autism, and obsessive-compulsive disorder. His two favorite courses are science and art, but he has specific interests in botany, entomology, and conservation. Michael plans to study agriculture and engineering in college.
Miles likes taking journalism and computer skills classes at Inglemoor High School. Miles wants to study history, statistics, and journalism in college. He is passionate about sports and would like to pursue sports journalism. Miles has Asperger syndrome.
Mya, who has dyslexia, attends the Science and Math Institute. Mya's favorite courses are math and science. In college she plans to prepare for a career as a veterinarian who works with exotic animals.
Raelynn enjoys taking chemistry and computer science classes and codes for a hobby. After college, Raelynn wants to become a chemist or a bioengineer to help mitigate environmental challenges. She has attention deficit disorder, autism, dysgraphia, and dyslexia.
Zayn attends Skyline High School and is deaf. Her favorite subjects are math and science. She enjoys solving problems algebraically. In college, Zayn wants to study to become an audiologist.