Looking for Career Opportunities? Don't Miss WRP Recruitment!
Friday, September 20, 2019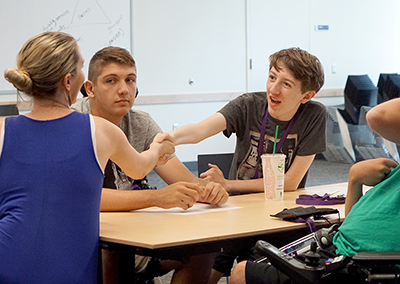 Participating in the WRP is an excellent way to find an internship or permanent position in the federal or private sector, explore careers in the federal service and gain interviewing experience.
The WRP provides students with disabilities in all fields of study the opportunity to market their abilities to a wide variety of potential employers across the United States, sharpen their interviewing skills during a required one-on-one meeting with a WRP recruiter, and gain valuable skills, experience, and contacts on the job. Candidates apply to the WRP each fall through participating campuses managed by a School Coordinator. They are interviewed and pre-screened by federal employees who serve as volunteer recruiters. Candidates represent all majors, and range from college freshmen to graduate- and law-school students. Information from these candidate interviews is compiled in a searchable database that is available through this website to employers.
To apply for WRP, you must
have a disability;
be a U.S. citizen; and EITHER
be enrolled in an accredited institution of higher education on a substantially full-time basis (unless your disability precludes you from taking a substantially full-time load) to seek a degree,
be enrolled in such an institution as a degree-seeking student taking less than a substantially full-time load in the enrollment period immediately prior to graduation; OR
have graduated from such an institution within the past year (April 2018 or later).
The WRP is run on an annual basis and requires student applicants to have a phone or video conference interview with one of our recruiters. The interviews take place during October and November each year. The WRP is coordinated on college campuses by Disability Services or Career Services offices. Currently, over 350 colleges and universities participate in the program and additional campuses are added each year. To see if your school is listed, visit the Resources tab at wrp.gov and view "List of Participating WRP schools for 2020."
WRP is recognized by the Office of Personnel Management (OPM) as a model strategy in its guidance to federal agencies regarding the recruitment and hiring of people with disabilities. Since the program's expansion in 1995, thousands of students and recent graduates have received temporary and permanent employment opportunities through the WRP.
In Washington state, University of Washington, Gonzaga University, and Washington State University are hosting interviews this year. Student registration opened August 26, 2019 and closes on October 11th.