Karaoke Night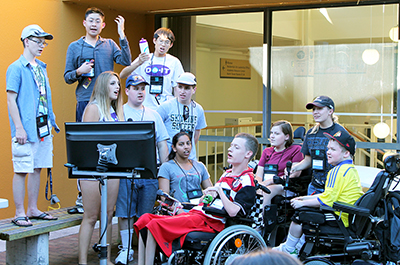 All the Phase II Scholars join together to sing karaoke at Summer Study 2015.
We both really enjoyed karaoke night! The song selection was unparalleled to any we have seen--the binder full of songs is about four inches thick! It even featured songs from musicals, which was an exciting surprise, since many of the students this year really like musicals. We also loved karaoke night because of the culture of acceptance DO-IT promotes. Even if you were a bad singer, it was easy to go up and have a good time, and there was a lot of positive support from everyone.
Another great part of karaoke night was sharing a love of music with everybody through voice. Even when you love to sing, you don't get to show it off often. By the end of the night, some of our throats were sore from all the singing. We can't wait for next year's karaoke night!