How People Become Friends at DO-IT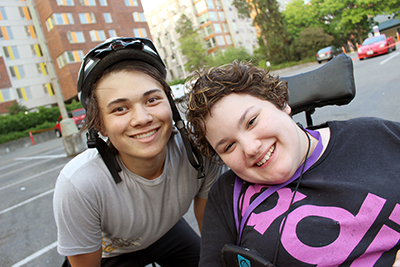 Maribel: The DO-IT Summer Study program is for people with disabilities like mine. For me, Summer Study isn't just about making friends or doing projects; it is about taking in your accomplishments and knowing that you do not have to be afraid of going out into the world and achieving your dreams!
Sandra: When I first came to DO-IT, I didn't know anyone, and I was scared that I wouldn't fit in. I had also not been around a lot of people with disabilities before, so I didn't know the right things to say or do. However, I quickly learned by talking to people that we all have different abilities. This helped me become friends with others.
When I first met Maribel, I didn't know how to interact with her. But once I took the time to get to know her, I realized she is great! This made me realize you shouldn't judge people by your first impression. Give yourself the opportunity to know the person. People with disabilities get judged all the time, which isn't fair. There are great people in the world that you may not be giving yourself a chance to meet.