A Growth of Accessibility in Video Games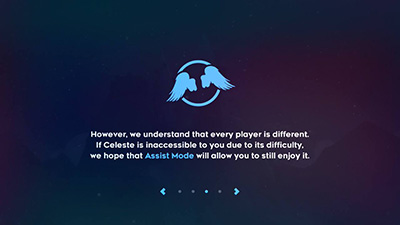 Accessibility in gaming has seen great strides in recent years. Accessibility features in software have become more frequent and adaptive hardware is being developed by mainstream game companies. However, there is still much progress to be made.
Early video games often had no accessibility features and even if any effort was made, it was difficult to obtain. For instance, Nintendo's Hands Free controller was only sold through their customer service line for a high price. Unsurprisingly, many disabled players found ways to make games playable on their own. This caused a trend where video game accessibility was made the consumer's responsibility. Although there have been advocacy groups such as The International Game Developers Association (IGDA) Game Accessibility Special Interest Group and several attempts at a set of guidelines for game accessibility; these efforts have largely been ignored by major developers.
Accessibility features have rapidly grown more common, particularly over the past three years. Some video games and consoles started having settings for captions or color blindness, and Xbox notably released a co-pilot mode to allow another player to assist with certain actions.
In 2018, a significant change was seen in Celeste's acclaimed assist mode, which allows the player to adjust speed, become invincible, and skip levels entirely, among other options. This was a significant decision by independent developer Matt Makes Games, as Celeste's notorious difficulty is relevant to the story. This is the same argument used for defending the lack of assistive features in 2016's Dark Souls 3 and 2017's Cuphead, among others. However, the inclusion of an assist mode allowed many more players to enjoy the story and experience of Celeste, and feel welcome doing so. In fact, an independent developer created an assist mode mod for Cuphead inspired by Celeste.
This success brought along an increase in accessibility by developers. God of War introduced a variety of customizable controls, the ability to replace some fine motor tasks and repeated button taps with a single button push, and several subtitle and display options to the franchise. In Marvel's Spider-Man the player can auto-complete quick time events, skip puzzles, turn on large subtitles, change taps to holds, and disable parallaxing. The Last of Us 2 made news worldwide with not only it's extensive accessibility menu, but the fact that it guided the player to the menu at the beginning of the tutorial to allow users to make these changes from the very start. The Xbox Adaptive Controller was also released in 2018, reflecting the growing awareness of disabled gamers.
Spearheaded by indie developers, mainstream companies are now catching up to the new standards of game accessibility. The gaming community at large, however, is lagging behind. Sekiro: Shadows Die Twice, a game by the same developers as Dark Souls 3 and released in 2019, is another game with a notoriously high difficulty curve. There was discussion of including an easy mode in the game, which would allow the player to enjoy the story without as punishing gameplay. However, despite criticism of the lack of accessibility features by critics and accessibility advocates, there was an outcry from many fans arguing against the inclusion of an "easy mode." These players felt that playing the game on what they consider to be an easier difficulty would compromise the vision for the game. Yet, game director Hidetaka Miyazaki has stated that while he wishes to maintain the current difficulty, he also finds it sad that many people hesitate to play and would like everyone to complete the game. While game developers are ready and willing to make games inclusive for all, some in the gaming community are not.
Great strides have been made in the past few years to produce games that are playable by everyone, but there is still much work to be done. Games like Celeste, God of War, The Last of Us 2, and Marvel's Spider-Man have paved the way but there are still many more ways to bring video games to a wider, disabled audience. For example, these games still require a degree of fine motor control. While it may not be possible for every game to be accessible to everyone, through inclusive measures by video game developers, we are getting closer than ever before. For now, game companies should be more transparent about the accessibility of their games. Can I Play That? (CIPT) is an online resource run and written entirely by disabled writers that allows people to know beforehand whether or not a game will be accessible to them. CIPT also releases annual Accessibility Awards celebrating the incredible progress of inclusive gaming thus far.