Favorite Hobbies of Scholars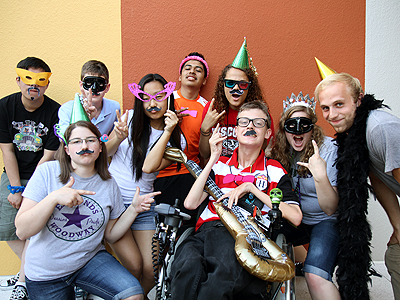 Phase I Scholars and Interns had a blast during craft night at Summer Study 2014.
In a brief interview with our fellow Phase I Scholars, we asked what their favorite hobbies were. The responses included drawing, watching movies, swimming, hanging out with friends, hunting, watching TV, going to sporting events, and even cheerleading. However, the three most popular hobbies within our group were listening to music, reading books, and playing video games.
People have been listening to and composing songs since the invention of instruments, and music in all forms has been popular throughout history. Many of the Scholars enjoy listening to music of varying genres throughout the day and often can't stop listening to especially catchy tunes. Some of the most popular genres liked by our Scholars include dance, pop, and rap.
Another popular hobby is playing video games. Video games are found almost anywhere nowadays such as in your smartphone, calculators, or even vending machines; they are not just limited to computers or consoles. Many students develop brand new games every single day with novel and interesting concepts that appeal to a small number of gamers, but sometimes they can explode in popularity if they are especially fun. Scholars, like many other teenagers, enjoy playing video games of different genres, including Flappy Bird, Mario Kart, and Halo.
Reading books is another classic pastime for both the young and old. There are brand new novels written every year. Sometimes an author's very first book can be a hit, like Divergent by Veronica Roth, which was adapted into a movie released earlier this year.
In the end, whether it is turning pages to find out more about an exciting adventure, pressing buttons to blast another evil zombie, or bobbing to the beat of a wicked tune, there are many activities that our Scholars find very enjoyable.