Eyes Wide Open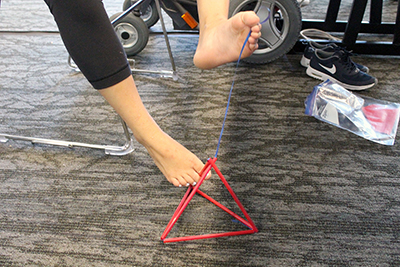 We see the world through our own narrow lens, and we each only have one life to live. We each have our own perspective on this life, and sometimes it can take having an open mind, taking on new experiences and opening our eyes to go beyond our own point of view.
Kylee-Lynn: Before DO-IT, I perceived independence to mean driving a car or living in an apartment. I have come to learn that independence actually requires many more individual steps. Before DO-IT, I never thought about it like that. I was afraid to look at life differently, but DO-IT gave me a safe place to do things I had never done before, such as test driving a scooter and putting myself in others' shoes. These experiences have lessened the fear of going to college and changed my perspective.
Teresa: Prior to my arrival at DO-IT I saw myself as a charismatic and humble person who was easy-going, easily understood, and able to easily understand others. I thought I knew what it was like to be different. Being a DO-IT Scholar is not the easiest thing. In fact, it has significantly pushed me mentally. I had never been so included in such a diverse group. Ten days with this group of people, opened my eyes to how many different battles people are constantly fighting. DO-IT forced me to be okay with advocating for myself and for others. It forced me to be a leader and amplifies the importance of independence. I realized that all these individuals who have different abilities can do almost anything they set their mind to. DO-IT really boosted my self-esteem and reminded me that being different is okay by opening my eyes to the diversity of the world. My physical disability is only minor, and the real transformation is perspective.
Teresa and Kylee-Lynn: The biggest takeaway from attending DO-IT is the valuable perspective it created for us. We both came in afraid of judgment and hard-to-reach expectations. We both quickly realized just how irrational our fears were. The influence other Scholars had on us was a huge blessing. We both found people that had a lasting effect on our hearts. The struggles that we came in with were quickly disregarded because of the support from staff, interns, and peers. Having this experience allows us to embark into our future with our eyes wide open.