DO-IT's Neuroscience for Neurodiverse Learners Program Featured by NSF INCLUDES National Network
Thursday, February 11, 2021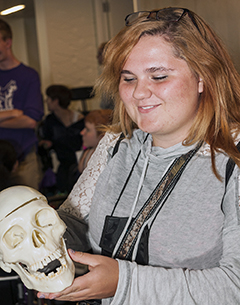 DO-IT was featured by the NSF INCLUDES National Network in their article "Looking Back at 2020 as a Year of Challenge and Innovation." DO-IT Program Manager Scott Bellman shared about the successes of DO-IT's Neuroscience for Neurodiverse Learners (NNL), which is our collaborative program with the University of Washington's Center for Neurotechnology (CNT). NNL is a multiyear program that hosts both year-round programming and a summer study for neurodiverse high school students aiming to attend college.
The article helps identify how "The pandemic forced [us] to quickly pivot from the intended in-person classes to an online learning environment, discovering in the process that it could be a strength of the program rather than a weakness."
Wayne Gilliam, the communications manager for the CNT, wrote an article for the CNT website on the growth and strength of the program through the pandemic. In this article he stated "In a manner uncannily parallel to how the unique traits and characteristics of neurodiverse learners often brings forward unexpected talents and strengths, staff members were pleasantly surprised to discover that the online learning environment - which they initially thought of as a challenge or obstacle to be overcome - turned out to be a major strength of the program."
NNL continues to welcome high school sophomores, juniors, or seniors who are citizens and permanent residents of the United States and its possessions who identify as neurodiverse learners to apply for our program. Students can apply for both the year-round programming and/or the two-week summer program, which will be hosted online this year. To learn more about the program and apply, visit the NNL website.