DO-IT Scholars Just Completed a Successful 27th Annual Summer Study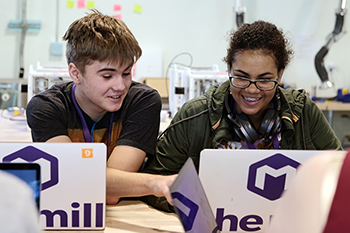 The DO-IT Scholars Program just completed its 27th annual Summer Study to great success!
Sixteen Phase I Scholars, all from Washington State, completed their first DO-IT Summer Study session at the University of Washington this July. They learned about college life and prepared for college and careers. Throughout the year, they communicate with each other, DO-IT participants, and DO-IT Mentors. They use laptops, assistive technology, and the internet to support their academic studies, and they participated in sessions in exciting fields that include science, engineering, mathematics, and technology. Fourteen of the Phase II Scholars returned to take on exciting projects in robotics and media editing, as well as learn more about the first years of college and gain valuable mentors and networking skills.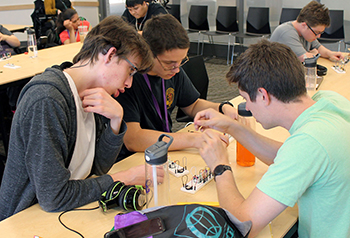 Seven Interns helped DO-IT staff by coordinating evening events and making sure Scholars are safe and on schedule. Interns provide invaluable insight and support throughout the two weeks, and act as role models and mentors to the younger Scholars by sharing their challenges and accomplishments. Interns also gain valuable work experience by providing logistical and program support to DO-IT staff. Their individual bios can be found in the Phase III Scholar and Ambassador sections that follow.
Learn more about the DO-IT Scholars program on their website and consider recommending a high school student with a disability to be part of our program next summer!