DO-IT: A Community Environment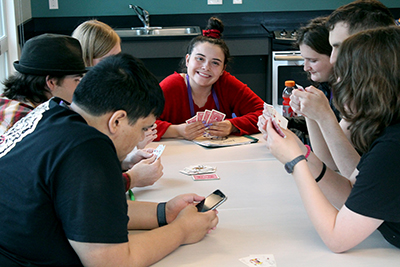 In life there is no cavalry to save you when the treatment that you receive is different from everyone else, but a targeted mentoring program just might do the trick. DO-IT Scholars strive to become truly sensitive to the navigation of their disabilities as aspiring college students, but sometimes learning how to navigate each other is the most important aspect of success—with camaraderie, so much is possible.
Being a Phase I Scholar can be stressful, lonely, and confusing when you first arrive. You're away from home with all new people, unsure of what's to come. For a lot of us, this is the first time being away from our families, since most summer camps and programs either can't handle our disabilities or think we are too much of a liability. Being with people, especially people you don't know, all day, every day, can escalate anxieties.
All the staff and Interns try to make you feel included and welcome, but we all retain some level of anxiety, especially before getting to know the other Scholars. Often large group activities and icebreakers that are meant to allow people to get to know each other can have the opposite effect those of us with anxiety. It can be helpful to introduce yourself to people and show genuine interest to learn more about them.
We interviewed Intern Emma on how she became more comfortable and got involved when coming to DO-IT Summer Study.
Q: "How did you feel as a Phase I, awkward, excited, left out?"
A: "When I was a Phase I, I was really shy. I felt out of place. But once I started to get to know everyone else, I felt better… but it was also hard being away from home for the first time for two weeks."
Q: "What was one thing that made a difference in making you feel like part of the group at DO-IT?"
A: "On the first day, my roommate Anna got up and said, 'let's introduce ourselves to the group.' She pushed me to get out there and meet the others, making sure I didn't just sit by myself."
Q: "Do you feel more comfortable coming back as a Phase II Scholar or an Intern?"
A: "My Intern year, because now I've known the people in my group for two years. However, once I figured out what DO-IT really stood for and that they were here to help us succeed, I felt like I became a part of the community."
Q: "Do you feel like DO-IT has helped you become your best self?"
A: "Yes, because I feel more comfortable with having my disability after going through this program because everybody is the same in the fact that they are different."
Emma's experience really showcases how just having someone to look out for you can really help you feel like part of a community. It is also really helpful to know that everybody feels nervous their first year; some people just show it more than others.