DO-IT Awarded Three New Grants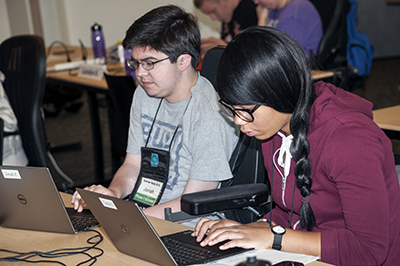 DO-IT Scholars Jonah and Tasha work on their laptops together.
The National Science Foundation (NSF) recently approved three new grants. The new AccessCyberlearning project will address disability-related issues to help researchers and educators make online learning experiences more effective and accessible to students with diverse characteristics. AccessCyberlearning will spend two years increasing the capacity of current and future NSF-funded cyberlearning projects to design innovative learning technologies, teaching strategies, and project activities that are welcoming to, accessible to, and usable by all participants, including students with disabilities.
The second new grant is an additional investment of almost four million dollars to AccessComputing, a project that has been ongoing for a decade. AccessComputing will continue to increase the number and success of people with disabilities in computing degree programs and careers, as well as increase the capacity of postsecondary institutions to fully include students with disabilities in computing courses and programs. Added to PI, Professor Richard Ladner, UW Department of Computer Science and Engineering, and CO-PI Dr. Sheryl Burgstahler, DO-IT Director and Affiliate Professor in the College of Education, are Co-PIs Professors Amy J. Ko and Jacob Wobbrock from the UW Information School. This new connection will bring strengths in human-computer interaction, ability-based design, computing education, mobile user interfaces, and computer input methods. AccessComputing will also include a new group of industry affiliates to bring greater focus on placing students with disabilities into computing careers.
Lastly, The Center for Neurotechnology (CNT) received supplemental funding to conduct AccessERC. CNT is part of the network of more than a dozen Engineering Research Centers (ERCs) supported by NSF. With Raj Rao, a faculty member in the UW College of Computer Science and Engineering, as PI and DO-IT's Sheryl Burgstahler as Co-PI, AccessERC staff will engage with other ERCs to make their activities and products welcoming to, accessible to, and usable by people with disabilities. AccessERC staff will conduct training, consultation, and collaborative activities, as well as develop and deploy resources to help current and future ERCs work toward reaching project goals.