Debra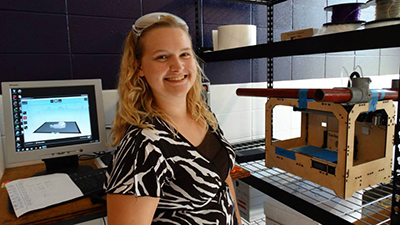 Hi, my name is Debra, and I'm a mechanical engineering major at Oklahoma Christian University. I chose to major in mechanical engineering despite my desire to become a doctor because I enjoy math and science. Majoring in engineering has led to some great opportunities. I participated in a Research Experience for Undergraduates summer program where I helped develop an open-source 3D-printed wrist orthosis for individuals who have had a spinal cord injury. I attended and presented the results of this research at a national conference focused on prosthetics and orthotics.
Another reason I chose to major in engineering is that there are numerous job opportunities available in engineering if I decide patient care is not the right path for me. Although my hearing loss has not yet presented a problem, it might affect my interactions with patients. With a degree in mechanical engineering, biomechanical engineering could be a possible career path. Whether or not I go into engineering as a career, it has taught me valuable lessons; I will use these skills for the rest of my life.
I have been incredibly blessed to have a great community that has helped me succeed despite my deafness. My entire immediate family is hard-of-hearing. The nice thing about this is that we all understand being deaf and can support each other. My other friends and family have always been wonderfully understanding.
My sister and I loved the audiologist we saw during our K-12 education—in fact, she was planning to retire a year or two before I graduated, but decided to wait until both of us graduated high school. She always made sure we had everything we needed to succeed including hearing aids and FM systems. She advocated for us with our school, which installed a wide-area transmitter into the auditorium. Our county's teacher for the deaf and hard-of-hearing worked with me from elementary school through high school, and she (as well as my family and teachers) taught me various skills, including self-advocacy.
My teachers and classmates in K-12 always ensured that I was able to hear and understand in the classroom, which helped me succeed. I had preferential seating, my teachers repeated themselves, they worked on facing me at all times so I could lip-read, and, once I got an FM system, my teachers wore the transmitter for me. Even my classmates helped make sure I could hear when we had a substitute teacher. If we were doing individual work and the teacher wanted to talk to us, they would nudge me or let the substitute know that I couldn't hear them without the FM system.
In college, the disability services office has been incredible in working with me. They purchased an FM system, installed a loop system in the main auditorium, made sure I had a hearing accessible dorm room, and gave me every accommodation I needed. The teachers and my fellow students have been very supportive as well. Given the support that I have gotten throughout my education, I am confident that I will be able to find the support I need as I continue forward in my education and career.