Deaf Kids Code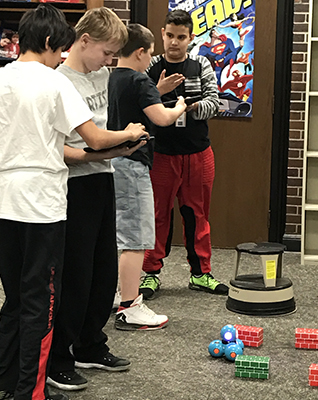 I direct a project called Deaf Kids Code. Deaf Kids Code promotes technology and computing skills to empower deaf and hard of hearing students socially and economically.
Our workshops provide middle school students the opportunity to experience hands-on coding activities. The program emphasizes that children who are exposed to such activities are more likely to have an interest in computing fields. One project we are currently working on is translating the coding videos from the Khan Academy (www.khanacademy.org/) to American Sign Language. Coding videos from the Khan Academy opens up learning opportunities to many students who are deaf so they can explore topics for future career opportunities. This work addresses one of the issues that Deaf Kids Code addresses — the unemployment gap for those that are deaf or hard of hearing.
Through projects like Deaf Kids Code, it is possible to make computing and technology fields more diverse and inclusive. Not only that, but it ensures that people with disabilities can improve future technologies by making them more accessible.