Daman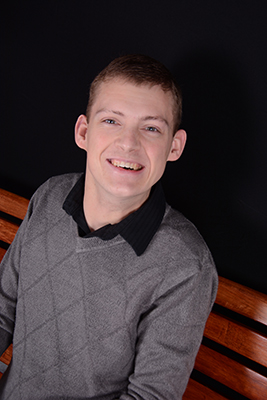 Technology & Advocacy
Because I have cerebral palsy, I have used technology since elementary school to complete my homework and other tasks. I am an avid keyboarder, but I have difficulty using a mouse. When I was quite young, technology became my passion. In high school, I also gained a passion for disability advocacy and culture.
I entered Western Washington University (WWU) with two goals: earning a computer science degree and starting a new community in the form of a disability awareness student organization. Ultimately, I decided that computer science wasn't quite the right fit for me. Luckily, I discovered WWU's Management Information Systems (MIS) program, which allows me to interact more with people. MIS is the ability to communicate business needs in terms of technology and then create or find the best solutions.
Within two weeks of starting college I met my second goal, when I co-founded "WWU Students for Disability Awareness" (SDA). I served as president for three years. This organization became the disability voice on campus, making disability a part of the diversity landscape. After three years, SDA evolved into the Disability Outreach Center to institutionalize and continue our advocacy work. My focus shifted to my academics, a new job, and national disability advocacy.
After a summer internship in Washington, D.C. the U.S. Department of Agriculture hired me as a virtual intern to improve their website accessibility. My role was to ensure that web pages and documents posted on the website were accessible. I knew this job was the start of my career because it combined both my passions: technology and disability advocacy.
A few years later, I began my masters in business administration in an accelerated one-year program at WWU. Simultaneously, the Federal Housing Agency gave me the opportunity to coordinate their web accessibility agency-wide. These two opportunities allowed me to learn how to implement accessibility across an organization.
Upon graduation, I was offered a position at SSB BART Group, a web accessibility consulting company in Washington, D.C. At SSB BART Group, I'm learning from other experts, which will allow me to advance my career. My next goal for myself is taking on and managing large IT accessibility projects.
Developing a broad network of people has contributed to my success. I constantly network with disability advocates, former professors, current and past colleagues, and people I meet at conferences and events. Facebook, LinkedIn, and personal interactions with my contacts help me open doors to new opportunities, serve as a mentor, and offer advice to others. Success for me comes from combining my love for technology and disability issues to build strong collaborations and change the world.