College and University Disability Services Staff: A Panel Q&A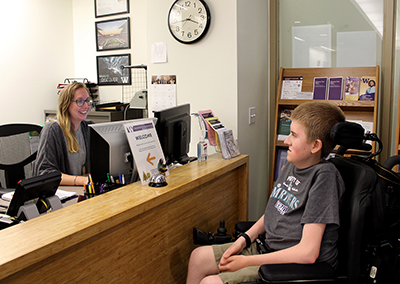 This panel featured disability support staff and was moderated by AccessComputing staff member Eric Trekell, who is also the former director of disability services (DS) at Everett Community College. It was held on Thursday, February 24th, from 4:30-5:30 online, and features questions around student accommodations, advice for students talking to faculty, documentation, and a variety of other topics.
Panelists:
Wendy Holden, Director, Disability Services, Central Washington University;
Megan Jasurda, Director, Disability Support Services, Clark College;
Adiam Tesfay, Director, Disability Resource Center, University of Washington;
Kim Thompson, Senior Director, Disability Services, Seattle University.
What do you wish students knew about asking for accommodations? Does that advice differ based on their disability?
An "interactive process" for accommodations is required by law; it's that first meeting but it's also an ongoing dialogue that happens the entire length of your post-K-12 life, in higher ed and work settings. Understanding that is important.
Accommodations happen in context. The accommodations you had in high school will be different from what you have at a 2-year college, maybe different from the ones you have at a 4-year college or grad school, and different at work. It depends on your disability, your major and your classes. What you need in a lecture class may be different than in a lab class or at work. It's flexible.
What do you think are good practices for students in how to approach their faculty to talk about their disability and their accommodations?
Faculty have a singular focus on their subject and they love their subject so much. Approach them with this idea: "I want to learn this great subject that you love so much, but normal academia creates these barriers for me with my disability. What is the best way to use my accommodations to help me learn from you?"
You don't have to disclose your disability but talk about how it affects you.
What approach does your institution take with respect to documentation of a disability?
The law allows variation among campuses. A list of desired documentation may be on the DS website. Call and ask!
We can work with a student and find out if the documentation they have is sufficient. Sometimes we can help them to get the documentation they need from a medical or counseling clinic. Sometimes we can take a student's self-report, where a student talks to us about their experiences, including their health barriers and how those barriers result in academic challenges. A self-report also includes their past experience with accommodations, if any.
If a student is considering applying at your institution, can they meet or call to talk with disability office staff to find out what type of accommodations they might receive?
Whether or not you can meet before being admitted varies between campuses. We're required by law to have an official meeting with you to set your accommodations. Most of our offices don't have the staffing capacity to have "pre-meetings". It's really a "whole process" and it needs to take place after you're admitted and preferably when you're enrolled for your first classes.
If a prospective student really wants, most of us will have a brief "informational" meeting but we'll never promise specific accommodations at that meeting.
Can a student have an advocate or service provider at the meeting with DS staff?
Yes! A student can bring any person to any meeting at any point. But so can we; our goal is a positive, supportive relationship with you, but if you bring a lawyer to the meeting without telling us in advance we may reschedule the meeting so a campus lawyer can attend, too.
Because of FERPA, it can be a problem if a parent or advocate wants to email or call or meet and make decisions without you. You, the student, are responsible for your accommodations process, not your parent. This is totally different from your high school experience.
If a parent or service provider starts to overstep a little, then we have to have a conversation explaining that the student is in charge, not the parent.
Do you have any advice for students who may feel that their DS office might not be helpful?
Every DS office is required to have a "complaint process," and they should provide you with that information at the first meeting, or let you know where to find it. There may be an "informal" process and a "formal" process.
If the DS office is large enough to have a director and other staff, and you have a complaint about a staff member, then making that complaint to the director is always the first step. In a DS office of one person, their supervisor would be the first step in an informal complaint process.
The formal process usually starts outside the DS office; again, this process varies, but it should be posted on the DS web page and in the student handbook. It could be a campus ADA or Title IX coordinator. If you can't find that information easily, it's ok to ask someone else. A staff member at the Diversity office, or an academic advisor are good places to ask for that advice and guidance.
There's also an off-campus formal process all students have access to: the US Department of Education's Office for Civil Rights (OCR) has a complaint form on their website. It's usually best to try the formal campus process first, because OCR will want to know if you tried resolving the issue on campus.
What advice would you give to a student who is heading into a research internship, either on their campus or on a different campus?
That varies on campuses; a paid internship can mean you're an employee and now it is a workplace modification for human resources (HR). An unpaid, graded internship is probably a student accommodation with the DS office. Probably!
Whether the internship is on your campus or another campus it's ok to start by contacting the DS office, explaining the internship and asking. They'll know the process and will refer you to HR if appropriate.
Regardless, you'll probably meet with someone to provide information, maybe documentation and discuss: What is the actual work? Are accommodations needed in that research space? Does the internship supervisor need to know?
What about when I'm looking for a job? Should I specify my disability right away? Do you advise that a job applicant reveal their disability on the application form?
That's a personal decision. Some applicants are very up front and reveal immediately in their cover letter: "This is my disability and this is what I need." Sometimes an employer will appreciate that and know what to expect if they hire you. But, while it's illegal discrimination, you could be "screened out" if you reveal in your cover letter. No one would be able to prove that discrimination occurred.
Most application forms now ask if you have a disability; it's usually ok to disclose that on the application, because that response is only collected by the HR office for demographic reporting data, which is not supposed to be shared with the people who screen and interview applicants.
If you need an accommodation for the application process, you need to ask for that accommodation; again, that's usually part of the application form and should only be seen by HR, and would be arranged by HR, not whoever would be your supervisor. If you can get through an application process without an accommodation then it's appropriate to wait to disclose your accommodation needs to the HR office after you've been hired.