Celebrating A Birthday With DO-IT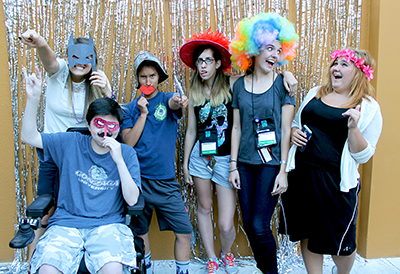 DO-IT Scholars celebrated Hailey's (right) birthday during craft night at Summer Study 2015.
Katelyn's perspective: How could you celebrate a birthday for someone you barely knew? I didn't know until now. It's one thing to just say "happy birthday," but learning all about someone to celebrate your roommate's birthday was fun. The first thing we did was help find the perfect birthday outfit. Many people like to dress up in a fancy outfit for their birthday, and Hailey definitely did. We also asked staff if we could get her a special treat, like a cupcake or special coffee. Just let them know that today is special even though they can't be with their family and friends—they have new friends!
Hailey's perspective: I had my first time being away from home on my birthday. It ended up being a great day. We went to Microsoft. In the evening, other Scholars got me a cupcake and sang me happy birthday. The best part of my birthday was that people wished me a happy birthday all day! By going to this program, I've learned not to be scared to tell people about my disability; it feels great knowing I am not the only one. I learned something this year on my birthday away from home and family—I suddenly knew it was time to be myself and not to let it bother me if others say anything about me being different.