CBI Agenda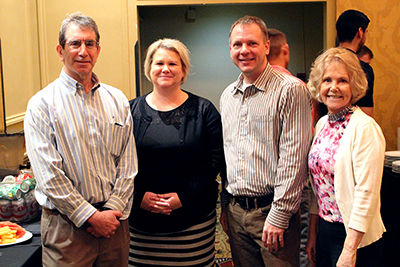 Tuesday, January 24th
6:30 – 8:00 pm
Opening Reception & Networking              
Wednesday, January 25th  
8:15 – 9:00 am
Breakfast and Networking
9:00 – 9:20 am
Welcome and Introductions
Rajesh Rao, Director of CNT, PI of AccessERC & CNT
Sheryl Burgstahler, Director of UW's Accessible Tech. Services & CNT Diversity
Scott Bellman, CNT Diversity Manager, DO-IT Program Manager
9:20 – 10:00 am
Accommodations and Universal Design
Sheryl Burgstahler
10:00 – 10:15 am
Video & Publication: Universal Design of an ERC
10:15 – 10:45 am
Access Technology Used by People with Disabilities
Gaby de Jongh, UW Information Technology Accessibility Specialist
11:00 – 11:30 am
Web Accessibility
Terrill Thompson, DO-IT Technology Accessibility Specialist, UW
11:30 – 11:50 am
Promising Practices that Engage People with Disabilities in the CNT
Eric Chudler, CNT Executive Director & Education Director 
Scott Bellman
12:00 – 1:00 pm
Working Lunch
What strategies used to recruit/support other underrepresented groups at your ERC could be repurposed for use in recruiting and supporting people with disabilities? 
1:00 – 1:10 pm
Report Out from Working Lunch
1:10 – 1:20 pm
Video: I'm Not Your Inspiration – Stella Young
1:20 – 2:10 pm
Perspectives of Postsecondary Students with Disabilities: A Panel Presentation
Tamitha Tidwell, DO-IT Project Coordinator
2:10 – 2:50 pm
Disability Identity: Understanding Disability Culture
Kayla Brown, UW DO-IT Program Coordinator
3:00 – 4:30 pm
Film & Discussion: Fixed: The Science/Fiction of Human Enhancement
Timothy Brown, CNT Ethics Team; Laura Specker-Sullivan, CNT Ethics Team; Hannah Werbel, CNT Student
4:30 – 4:45 pm
Discussion & Report Out:
How do the viewpoints of the student panelists and individuals in the documentary Fixed affect how you would communicate with, recruit, welcome, and/or work with people with disabilities in your ERC?
4:45 – 5:00 pm
Video: STEM and People with Disabilities
6:00 – 7:30 pm
Dinner
Where can we link to appropriate resources from our ERC website? What are other ways we can share information within our ERC, including partner institutions?   (Complete Daily Evaluation form)
Thursday, January 26th
8:15 – 9:00 am  
Breakfast and Networking
9:00 – 9:05 am
Video: Disability Sensitivity Training from DC Goverment
9:05 – 9:15 am
AccessERC Products, Activities, and Initiatives
Scott Bellman
9:15 – 11:00 am
Conduct an Accessibility Review of an Engineering Facility
Scott Bellman
11:00 – 11:30 am
Action Planning Worksheet and Discussion 
Scott Bellman
11:30 – 11:40 am
Final Evaluation
11:40 am
Lunch and Discussion
How can we continue to work together to promote the participation of people with disabilities in ERCs? What activities could be conducted by Student Leadership Councils?
12:30 pm
Wrap Up and Networking