CBI Agenda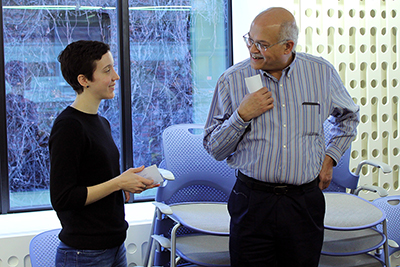 Tuesday, February 23
7 – 9pm
Networking Reception      
Wednesday, February 24
8 – 9am
Breakfast and Networking
9 – 9:30am
Welcome and Introductions
Rajesh Rao, Director of CNT, PI of AccessERC
Sheryl Burgstahler, DO-IT Director, CNT Diversity Director, and Accessible Technology Services (ATS) Director
Scott Bellman, CNT Diversity Manager, DO-IT Program Manager
9:30 – 10:30am
Accommodations and Universal Design
Sheryl Burgstahler
10:45 – 11am
Video: STEM and People with Disabilities
11 – 11:30am
UW's MakerSpace: A Case Study of Accessible Engineering
Kat Steele, Assistant Professor, UW Mechanical Engineering
11:30 – 12pm
CNT Promising Practices
Eric Chudler, CNT Executive Director and Education Director
Scott Bellman
12 – 1pm
Working Lunch
What strategies used to recruit other underrepresented groups at your ERC could be repurposed for use in recruiting people with disabilities?
1 – 2pm
Report Out from Working Lunch & Discussion
2 – 2:30pm
Disability Resources for Students           
Bree Callahan, Director, UW Disability Resources for Students
2:40 – 3:30pm
Web Accessibility
Terrill Thompson, DO-IT Technology Accessibility Specialist, UW ATS
3:30 – 4:15pm
Access Technology and Accessible IT
Hadi Rangin, IT Accessibility Specialist, UW ATS
Doug Hayman, Senior Computer Specialist, UW ATS
4:30 – 5pm
Tour UW's Access Technology Center & D Center
Hadi Rangin
6 – 8 pm
Dinner
Discussion: What can be done at our ERC to engage faculty and staff (e.g., web developers, curriculum & product developers, distance learning providers), about accessible IT? Where can we link to appropriate resources from our ERC website?      
Thursday, February 25
8 – 9am
Breakfast and Networking
9 – 9:45am
Disability Identity: Understanding Disability Culture
Kayla Brown, UW DO-IT Program Coordinator
9:45 – 10:30am
Interactive Session: AccessERC Team Building
Scott Bellman
10:30 – 11:15am
Universal Design of E-Learning: What Faculty Need to Know
Sheryl Burgstahler
11:30 – 12pm
AccessERC Products, Activities, and Initiatives
Sheryl Burgstahler
Scott Bellman
12 – 1pm
Lunch
Discussion: In what ways can your ERC contribute to AccessERC products (e.g., website, Knowledge Base), activities (some funded with minigrants?), and initiatives?     
1 – 1:20pm
Report Out from Working Lunch
1:20-1:30pm
Video: Disability Sensitivity Training Video
1:30 – 2:30pm
Student Perspectives: A Panel Presentation
Facilitators: Chet Moritz, CNT Deputy Director, Scott Bellman
Hannah, UW Pre-Engineering (CNT Summer Participant)
Jessie, UW Informatics (CNT Summer Participant)
Reni, UW Physics (CNT Summer Participant)
Cindy, UW Grad Student, Human-Centered Design in Engineering
Kayla, UW Law, Society, and Justice
2:30 – 3:30pm
Film: Fixed: The Science/Fiction of Human Enhancement
3:30 – 4:15pm
Discussion: How do the viewpoints of the student panelists and individuals in the documentary Fixed affect how you would communicate with, recruit, and/or work with people with disabilities in your ERC?
4:15 – 4:45pm
Engineering Design: Prosthetic Arm Challenge
Sheryl Burgstahler
Friday, February 26
8 – 9am
Breakfast and Networking
9 – 9:15am
Daily Overview
9:15 – 10:30am
Equal Access: Universal Design of an Academic Department/ERC
Sheryl Burgstahler
10:45 – 11:30am
AccessERC Action Planning Worksheet
Scott Bellman
11:30 – 11:45am
Wrap up: Where do we go from here?
Evaluation
11:45 – 1pm
Lunch, networking and discussion
How can we continue to work together to promote the participation of people with disabilities in ERCs? Who else might play a role?