Action Planning and Discussion Summaries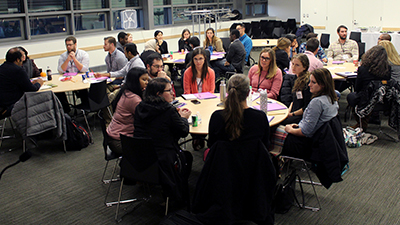 The following are examples of responses given during CBI discussions.
What strategies used to recruit/support other underrepresented groups at your ERC could be repurposed to use in recruiting and supporting people with disabilities?
Target specific programs and organizations for people with disabilities for outreach activities.
Create a program to mentor students with disabilities, similar to the programs we have for women and other minorities. Have more peer and near peer mentoring by people with disabilities.
Invite people with disabilities to be included in diversity panels or give presentations on disability topics.
Include more people with disabilities in undergraduate summer internships.
Edit training materials to include accessibility and disability topics, and make sure people with disabilities are represented in imagery in marketing materials.
Find other resources on campus through minority and disability groups and collaborate.
Make sure all advertising materials are accessible and include a diverse range of people in images. Have options in digital formats as well.
Conduct regular reviews of science department and lab space for accessibility.
Host and participate in more recruiting events targeted at people with disabilities.
Make sure accessibility is featured on our website and in our brochures.
Since some projects may be harder for some people with disabilities to undertake, develop an array of projects to allow for a broader group of people to engage and be successful in a lab.
Outreach to K-12 students with disabilities.
Make sure all people, including those with disabilities, have opportunities to publish and showcase their work.
Film and Discussion: How do the viewpoints of the student panelists and individuals in the documentary Fixed affect how you would communicate with, recruit, welcome, and/or work with people with disabilities in your ERC?
Current ERC pipelines are rather narrowly focused—ERCs recruit students from underrepresented groups to help them progress to a PhD, instead of recruiting more widely to give students lab experiences on a more general setting and not expect them to go through a more long-term program.
Viewing disability as just a variation of human life showcases how we all have different strengths and weaknesses and can contribute uniquely to society.
Many people with disabilities want different things, and it is important to ask what each person wants instead of making assumptions. Solutions aren't "one-size-fits-all."
I often expected less from people with disabilities and this film and my experiences today have shown me that that expectation is wrong. All people should be treated as equals.
Fixed is great at showing all sides to the issue, and while there is no true conclusion, it is clear that engineers need more knowledge about designing technology and its impact on people with disabilities.
Disability is a part of general diversity. Seeking out diverse experiences can be the first step to opening up larger possibilities.
If we approach disability through universal design, then creating an accessible space can be helpful for all, instead of just accommodating as a quick fix for one student.
Combining this perspective with the Stella Young video showcased how disability should not be used as inspiration and instead viewed as just another facet of a person. A person should be a role model based on their accomplishments.
Creating a diversity statement as well as a specific page about disability at the ERC for our website can allow us to be more inclusive.
Where can we link to appropriate resources from our ERC website? What are other ways we can share information within our ERC, including partner institutions?
Create a new section on our website that shares information about accessibility. Add information to the diversity page and create an accessibility statement linked to from the front page.
Distribute a one-pager on accessibility information in our ERC and share it with those who come in.
Host tours on accessibility and do public outreach, sharing information about what makes the lab welcoming to all.
Add information about accessibility to the ERC's newsletter.
Link to AccessERC resources from the ERC's social media and website.
Share information across groups within the ERC, including students, post-docs, faculty, and staff.
Host workshops about disability and accessibility.
Feature universal design across the ERC website.
How can we continue to work together to promote the participation of people with disabilities in ERCs? What activities could be conducted by Student Leadership Councils (SLCs)? By diversity and education leaders?
Foster communication and collaboration through in-person meetings and online discussions. Create a community of practice around accessibility as well as around diversity.
Create and host diversity workshops/panels.
Have individuals with disabilities lead trainings so students with disabilities can gain mentors and feel included/represented.
Invite students with disabilities to conduct accessibility walkthroughs of ERC events, websites, labs, etc.
Promote accessibility practices across institutions and centers; join list-servs and other groups around accessibility and bring those practices to our own ERC.
Create workshops on implicit bias and how it relates to people with disabilities.
Create and set up more workshops and events between ERC members and people with disabilities.
Actively recruit people with disabilities for research experiences for undergraduates (REUs).
Connect with the Disability Resources Center as well as the Veterans Center to share resources. Connect with other accessibility endeavors across campus.
Host webinars on disability topics and awareness.
Student Leadership Councils should have a dedicated diversity chair.
Promote accessibility training to all faculty, both within the ERC and on campuses.