AccessCyberlearning 2.0 Shares Capacity Building Institute Proceedings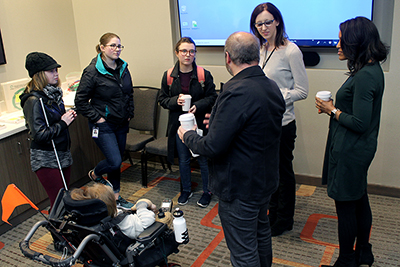 AccessCyberlearning held the AccessCyberlearning 2.0 Capacity Building Institute (CBI) January 16 – 18 on the University of Washington Seattle campus. The CBI included presentations, panel discussions, and group discussions where CBI participants shared their diverse perspectives and expertise. These presentations and discussions focused around four research questions, which will be addressed in a future white paper produced by the CBI attendees:
What challenges do learners with different types of disabilities face in using current and emerging digital learning tools and engaging in online learning activities?
How do current digital learning research and practices contribute to the marginalization of individuals with disabilities?
What advances in digital learning design are required to support multi-modal learning and engagement that is fully accessible to and usable by students with disabilities?
What specific actions can digital learning researchers, funding agencies, educators, and other stakeholders take to systematically address issues with respect to disabilities?
Learn more about the AccessCyberlearning project and read the proceedings from the CBI on the AccessCyberlearning webpage.