AccessComputing Minigrants Pathways to Success for Students with Invisible Disabilities: an AccessComputing Capacity Building Institute at Landmark College 2013)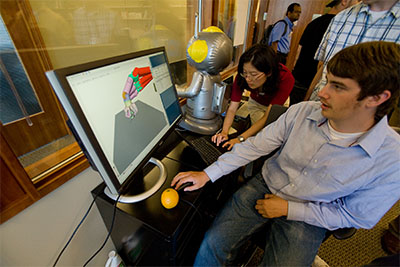 For a limited time, AccessComputing will offer funding for minigrants to support training, experiential learning, and other computing and IT-related activities nationwide. The ultimate goal is to increase the number of people with disabilities, including post-September 11 veterans, successfully pursuing computing careers.
An institution or other organization can seek funding to support the following:
an existing computing event in order to attract/involve students with disabilities. Check with your computing department and see if there is an upcoming event to which you could add a mini-program for students with disabilities. For example, AccessComputing funds speakers and exhibits focused on assistive technology and other disability issues as part of the UW Engineering Open House. In addition, students with disabilities are invited to a pizza lunch to network with other students, faculty, and mentors.
a stand-alone new event to attract and support students with disabilities in computing fields.
a training event for faculty, administrators, or staff to improve access to computing curricula and programs for students with disabilities and/or to include disability-related topics in their course curricula.
a professional development opportunity for students with disabilities, faculty, and staff to attend a conference or symposium.
Visit Apply for an AccessComputing Minigrant for more information and email accesscomp@uw.edu to consult about the availability of funds.