Access to Technology
Computers are essential tools in all academic studies, including those in science and mathematics. It's difficult to imagine a state-of-the-art program without computer simulations, electronic databases, or interactive websites.
Recent advances in adaptive computer technology, greater reliance on computers in many fields, and increased availability and networking of electronic information have resulted in life-changing opportunities for many people with disabilities. In combination, these technologies provide people with disabilities with better access to education, careers, and other life experiences. Educators can play an important role in ensuring access to these empowering tools.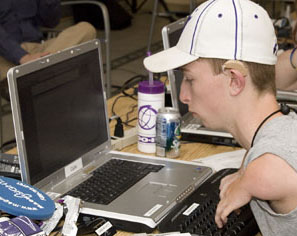 Consider a few stories of students with disabilities who are able to access information resources thanks to the availability of adaptive technology and accessible electronic resources.
Ben cannot use his hands, but muscular dystrophy doesn't interfere with his use of the Internet; he uses a voice input program that allows him to talk his way through the Internet—six hours a day!
Sarah uses her library's online catalog and the Internet to research and write papers for school. Her learning disability makes it difficult for her to read, so she uses a speech output system to read the screen.
Anna is blind. She uses a screen reader and speech output system to access information on genetics. Her system works well reading text but cannot make sense of graphics.
Shane surfs the Internet with a small tube in his mouth. The computer obeys his every command as he inputs Morse code—a sip for a dot, a puff for a dash. His cerebral palsy is only a minor inconvenience as he searches for information on his special interest, naval communication.
Sherri is legally blind, but she has enough sight to view enlarged screen images as she uses government resources on the Internet. She is pursuing her master's degree in public administration.
Katie is hearing impaired. She often uses a sign language interpreter. On the Internet, however, Katie communicates with her science teacher quickly and easily via email.
These stories provide examples of how access to technology enables students with disabilities to successfully pursue education and careers in STEM fields.