About the Contributors
In 1999, the U.S. Department of Education Office of Postsecondary Education (OPE) funded DO-IT Prof (grant # P333A990042), which created professional development materials and trained faculty and academic administrators nationwide to more fully include students with disabilities in their courses. In 2002, OPE funded DO-IT Admin (grant #P333A020044), which expanded DO-IT Prof efforts to train student service administrators and staff. Project team members further identified the critical need to systematically change policies, procedures, and practices in order for both universal design and reasonable accommodations for students with disabilities to be embraced at an institutional level.
In 2005, OPE funded AccessCollege (grant #P333A050064) to continue to offer and refine the successful professional development practices and resources for faculty and administrators of earlier projects, and complement them with the identification, validation, and application of Campus Accessibility Indicators to document institutional change toward more accessible campuses and programs. It also funded the creation of The Center for Universal Design in Education.
AccessCollege staff worked with a team of faculty and administrators representing twenty-three two- and four-year institutions, each paired with another campus during this project. They created new materials and updated the materials created in earlier projects, including these training materials. Specifically, staff and team members:
developed and delivered professional development and technical assistance using multiple delivery systems.
developed and validated Campus Accessibility Indicators to document institutional changes in policies, procedures, and practices that lead to campuses that are more inclusive of students with disabilities.
published articles and distributed training videos, publications, and web resources to share successful practices in training faculty and staff and promoting applications of universal design in higher education.
further developed websites and searchable databases of questions and answers, case studies, and promising practices for faculty, administrators, and other postsecondary audiences (https://www.washington.edu/doit/knowledge-base).
edited a book, Universal Design in Higher Education: From Principles to Practice, that features the perspectives and expertise of more than forty authors and shares promising practices regarding applying universal design in postsecondary settings.
AccessCollege Staff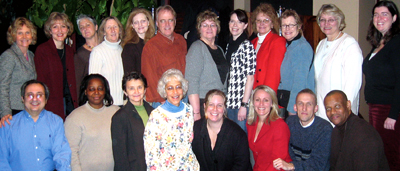 Project staff at the UW include the following:
Sheryl Burgstahler, Ph.D., Director
Lisa Stewart, Project Coordinator
Elizabeth Moore, Ph.D., External Evaluator and Research Consultant
Linda Tofle, Publications Manager
Rebekah Peterson, Publications Coordinator
Marvin Crippen and Terry Thompson, Technology Specialists
AccessCollege Team
Members of the AccessCollege Team and their partner institutions are:
Alice Anderson
Coordinator of Technology Access Program
Division of Information Technology
University of Wisconsin–Madison
Madison, WI
Partner: Madison Area Technical College, Madison, WI
Beatrice Awoniyi
Assistant Dean of Students
Director of Student Disability Resource Center
Florida State University
Tallahassee, FL
Partners: Tallahassee Community College and Florida A&M University, Tallahassee, FL
Meryl Berstein
Director of the Center for Academic Support
Johnson and Wales University
Providence, RI
Partner: Community College of Rhode Island, Warwick, RI
Sharon Bittner
Director of Academic Support Services
Des Moines Area Community College
Ankeny, IA
Partner: Iowa State University, Ames, IA
Barbara Brown
Academic Counselor
Kodiak College
Kodiak, AK
Partner: University of Alaska, Anchorage, AK
Deborah Casey
Assistant Dean of Student Services
Green River Community College
Auburn, WA
Adele Darr
Director of Disability Resource Center
Arizona State University
Tempe, AZ
Partner: South Mountain Community College, Phoenix, AZ
Tim Dailey
Director of Disability Services for Students
Southwestern Oregon Community College
Coos Bay, OR
Partner: University of Oregon, Eugene, OR
Jim Gorske
Assistant Dean of Students and Director of Disability Resource Center
University of Florida
Gainesville, FL
Partner: Greenville Technical College, Greenville, SC
Pam Griffin
General Disability Services Coordinator
Disability Services & Resources
University of Minnesota–Duluth
Duluth, MN
Partner: Fond Du Lac Tribal and Community College, Cloquet, MN
Grace T. Hanson
Director of Disabled Student Services
Mt. San Antonio College
Walnut, CA
Partner: California State University–Long Beach, Long Beach, CA
Dyane Haynes
Director of Disability Resources for Students
University of Washington
Seattle, WA
Partner: Seattle University, Seattle, WA
Elaine High
Learning Disabilities Specialist
and
Virginia Walker
Cognitive Disabilities and Brain Injury Specialist and Student-Athlete Liason
Resource Center for Persons with Disabilities
Michigan State University
East Lansing, MI
Partner: Kalamazoo Valley Community College, Kalamazoo, MI
Melissa Locher
Coordinator for Disability Services
Missouri Southern State University
Joplin, MO
Partner: Crowder Community College, Neosho, MO
Rodney Pennamon
Director of Disability Services
The Margaret A. Staton Office of Disability Services
Georgia State University
Atlanta, GA
Partner: Georgia Perimeter College, Clarkston, GA
Patricia Richter
Coordinator of Services for Americans with
Disabilities
Office of Human Diversity
Kutztown University
Kutztown, PA
Partner: Lehigh Carbon Community College, Schnecksville, PA
Sharon Robertson
Assistant Director of Student Success Center
University of Tennessee at Martin
Martin, TN
Partner: Middle Tennessee State University, Murfreesboro, TN
Rosezelia Roy
Coordinator of Students with Disabilities Program
Virginia State University
Petersburg, VA
Partner: J. Sargeant Reynolds Community
College, Richmond, VA
Audrey Annette Smelser
Counselor and Disability Specialist
Student Support Services
National Park Community College
Hot Springs, AR
Partner: Henderson State University Arkadelphia, AR
Al Souma
Counselor of Disability Support Services
Seattle Central Community College
Seattle, WA
Partner: Seattle University, Seattle, WA
Suzanne Tucker
Coordinator of Disability Resource Office
Southern Connecticut State University
New Haven, CT
Partner: Gateway Community College, New Haven, CT
Linda Walter
Director of Disability Support Services
Seton Hall University
South Orange, NJ
Partner: Raritan Valley Community College, Branchburg, NJ
DO-IT Prof Staff
Project staff at the UW included the following:
Deb Cronheim, Evaluation/Publications Coordinator
Tanis Doe, Ph.D., External Evaluator and Research Consultant
Nancy Rickerson, Program Coordinator
Tracy Jirikowic, Research Assistant
Linda Tofle, Publications Manager
Gale Devens, Publications Assistant
Christina deMille, Program Assistant
Marvin Crippen and Dan Comden, Technology Specialists
DO-IT Prof Team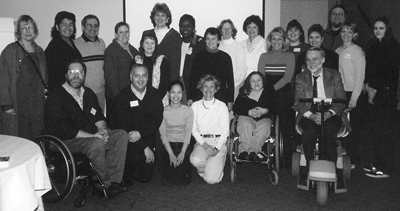 Members of the DO-IT Prof Team:
Carol Achziger
Computer Access Center Coordinator
Arapahoe Community College
Littleton, CO
Partner: University of Northern Colorado, Greeley, CO
Victoria Amey-Flippin
Coordinator/HELP Office
Northeastern Illinois University
Chicago, IL
Partner: Oakton Community College, Des Plaines, IL
Alice Anderson
Technology Access Program Coordinator
Division of Information Technology (DoIT)
University of Wisconsin–Madison
Madison, WI
Partner: Madison Area Technical College, Madison, WI
Patricia Bunge
Learning Disabilities Specialist/Counselor
Guilford Technical Community College
Jamestown, NC
Partner: North Carolina Agricultural and Technical State University, Greensboro, NC
Deborah Casey-Powell
Dean of Students
South University
West Palm Beach, FL
Rosemary Coffman, Ph.D., C.R.C.
Counselor, Students with Disabilities
Lee College
Baytown, TX
Partner: Rice University, Houston, TX
Amy Desenberg-Wines
Director, Disability Resource Center and Academic Assistance
Drake University
Des Moines, IA
Partner: Des Moines Area Community College, Ankeny, IA
Jill Douglass
Special Services Director
Santa Fe Community College
Santa Fe, NM
Mary Ann Ferkis
Instructional Accommodations Specialist, Adaptive Programs
Purdue University
West Lafayette, IN
Partner: Ivy Tech State College, Bloomington, IN
Pam Griffin
Coordinator, General Disability Services
University of Minnesota–Duluth
Duluth, MN
Partner: Fond du Lac Tribal and Community College, Cloquet, MN
Beverly Boone Harris
Coordinator, Supporting Students through Disability Services (SSDS)
Norfolk State University
Norfolk, VA
Partner: New River Community College, Dublin, VA
Nancy Hart
Manager, Disability Services
Lane Community College
Eugene, OR
Partner: Western Oregon University, Monmouth, OR
Elaine High
Learning Disabilities Specialist
John Pedraza
Coordinator
Resource Center for Persons with Disabilities
Michigan State University
East Lansing, MI
Partner: North Central Michigan College, Petoskey, MI
Alison McCarthy Iovanna
Coordinator of Disability Services
Tunxis Community College
Farmington, CT
Partner: Southern Connecticut State University, New Haven, CT
Richard Jones
Assistant Director, Disability Resources for Students
Arizona State University
Tempe, AZ
Jana Long, M.R.C., C.R.C.
Equal Opportunities Officer
Southwest Missouri State University
Springfield, MO
Partner: St. Louis Community College, St. Louis, MO
Ralph McFarland
Director, Student Disability Resource Center
Humboldt State University
Arcata, CA
Partner: College of the Redwoods, Eureka, CA
Richard Radtke, Ph.D.
Professor
University of Hawaii at Manoa
Honolulu, HI
Partner: Leeward Community College, Pearl City, HI
Lisa Badia Rhine
Director, Office for Students with Disabilities
University of Dayton
Dayton, OH
Partner: Sinclair Community College, Dayton, OH
Patricia Richter
Coordinator, Services for Americans with Disabilities, Office of Human Diversity
Kutztown University of Pennsylvania
Kutztown, PA
Partner: Thaddeus Stevens College of Technology, Lancaster, PA
Vicki Roth
Assistant Dean
University of Rochester
Rochester, NY
Partner: Finger Lakes Community College, Canandaigua, NY
Al Souma
Director, Disability Support Services
Seattle Central Community College
Seattle, WA
Partner: Gonzaga University, Spokane, WA
Marcia Wiedefeld
Coordinator of Disability Support Services
Loyola College in Maryland
Baltimore, MD
Partner: Community College of Baltimore County, Dundalk, MD
Linda Walter
Director, Disability Support Services
Seton Hall University
South Orange, NJ
Partner: Raritan Valley Community College, Branchburg, NJ