About the Contributors
A team of professionals, representing postsecondary institutions from twenty states throughout the United States, gathered in collaborative meetings and online and telephone conferences to help develop and test the professional development content and strategies included in these materials. Their continuous involvement in the AccessCollege project assured that project products have applicability nationwide. AccessCollege is funded by the U.S. Department of Education (grant #P333A050064), through DO-IT (Disabilities, Opportunities, Internetworking, and Technology) at the University of Washington.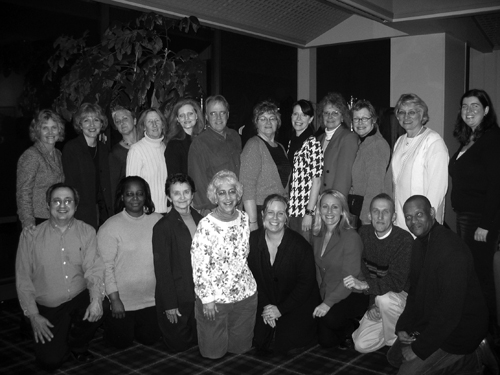 AccessCollege staff and team members:
develop and deliver professional development and technical assistance using multiple delivery systems
validate campus accessibility indicators and use pre-post checklists to document institutional changes in policies, procedures, and practices that lend to campuses that are more inclusive of students with disabilities
prepare content to be published in a book on universal design in postsecondary education, as well as distribute training videos, publications, and web resources to train faculty and staff on applications of universal design
improve the accessibility of activities and products of professional organizations
Project methods will result in postsecondary institutions and professional organizations that are more inclusive of people with disabilities. Ultimately, AccessCollege will increase the success of individuals with disabilities in postsecondary education and careers.
AccessCollege Staff
DO-IT staff members who work on the AccessCollege project include:
Sheryl Burgstahler, Director
Michael Richardson, Manager
Rebecca C. Cory, Evaluation/Research Coordinator
Marvin Crippen, Technology Specialist
Elizabeth Moore, External Evaluator
Rebekah Peterson, Publications Coordinator
Lisa Stewart, Project Coordinator
Linda Tofle, Editor
AccessCollege Team
AccessCollege team members are listed below.
Alice Anderson
Technology Access Program Coordinator
Division of Information Technology
University of Wisconsin–Madison
Madison, WI
Partner: Madison Area Technical College,
Madison, WI
Beatrice Awoniyi
Assistant Dean of Students
Director of Student Disability Resource Center
Florida State University
Tallahassee, FL
Partner: Tallahassee Community College and Florida A&M University, Tallahassee, FL
Meryl Berstein
Director, The Center for Academic Support
Johnson and Wales University
Providence, RI
Partner: Community College of Rhode Island, Warwick, RI
Sharon Bittner
Director, Academic Support Services
Des Moines Area Community College
Ankeny, IA
Partner: Iowa State University, Ames, IA
Barbara Brown
Academic Counselor
Kodiak College
Kodiak, AK
Partner: University of Alaska, Anchorage
Deborah Casey-Powell
Assistant Dean of Student Services
Green River Community College
Auburn, WA
Adele Darr
Director, Disability Resource Center
Arizona State University
Tempe, AZ
Partner: South Mountain Community College, Phoenix, AZ
Tim Dailey
Director of Disability Services for Students
Southwestern Oregon Community College
Coos Bay, OR
Partner: University of Oregon, Eugene, OR
Jim Gorske
Assistant Dean of Students/Director of Disability Resource Center
University of Florida
Gainesville, FL
Partner: Greenville Technical College,
Greenville, SC
Pam Griffin
General Disability Services Coordinator, Disability Services & Resources
University of Minnesota–Duluth
Duluth, MN
Partner: Fond Du Lac Tribal and Community College, Cloquet, MN
Grace T. Hanson
Director of Disabled Student Services
Mt. San Antonio College
Walnut, CA
Partner: California State University–Long Beach, Long Beach, CA
Dyane Haynes
Director of Disability Resources for Students
University of Washington
Seattle, WA
Partner: Seattle University, Seattle, WA
Elaine High
Learning Disabilities Specialist
Virginia Walker
Cognitive Disabilities and Brain Injury/ Student-Athlete Liaison
Resource Center for Persons with Disabilities
Michigan State University
East Lansing, MI
Partner: Kalamazoo Valley Community College, Kalamazoo, MI
Melissa Locher
Coordinator for Disability Services
Missouri Southern State University
Joplin, MO
Partner: Crowder Community College,
Neosho, MO
Rodney Pennamon
Director of Disability Services
The Margaret A. Staton Office of Disability Services
Georgia State University
Atlanta, GA
Partner: Georgia Perimeter College,
Clarkston, GA
Patricia Richter
Coordinator, Services for Americans with Disabilities
Office of Human Diversity
Kutztown University
Kutztown, PA
Partner: Lehigh Carbon Community College, Schnecksville, PA
Sharon Robertson
Assistant Director of Student Success Center
University of Tennessee at Martin
Martin, TN
Partner: Middle Tennessee State University, Murfreesboro, TN
Rosezelia Roy
Coordinator, Students with Disabilities Program
Virginia State University
Petersburg, VA
Partner: J. Sargeant Reynolds Community
College, Richmond, VA
Audrey Annette Smelser
Counselor/Disability Specialist
Student Support Services
National Park Community College
Hot Springs, AR
Partner: Henderson State University,
Arkadelphia, AR
Al Souma
Counselor, Disability Support Services
Seattle Central Community College
Seattle, WA
Partner: Seattle University, Seattle, WA
Suzanne Tucker
Coordinator, Disability Resource Office
Southern Connecticut State University
New Haven, CT
Partner: Gateway Community College,
New Haven, CT
Linda Walter
Director, Disability Support Services
Seton Hall University
South Orange, NJ
Partner: Raritan Valley Community College, Somerville, NJ
---