The 2022 IDEALS Workshop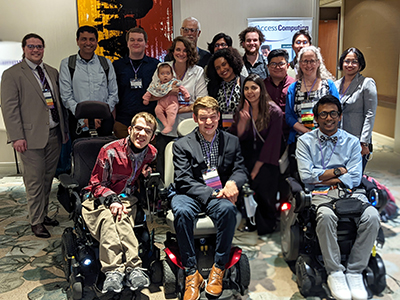 AccessComputing was one of the sponsors of the 2022 Computing Research Association's Committee on Widening Participation in Computing Research (CRA-WP) Grad Cohort Workshop for Inclusion, Diversity, Equity, Accessibility, and Leadership Skills (IDEALS) that was held March 24-26, 2022 in San Diego, CA. For many of us, it was the first workshop or conference we have attended in person for two years. There were strict protocols to protect everyone from exposure to the COVID-19 virus, including proof of vaccination, on-site testing, and mask wearing. Participants were assigned one to a hotel room, which meant the workshop was half its normal size. IDEALS focuses each year on career development and mentoring for computing graduate students from minoritized groups including students with disabilities. There were 82 students, including 27 who identified as having a disability, in attendance. Of the 27, five were already AccessComputing Team members. In addition, there were 25 mentors including AccessComputing leaders and partners Richard Ladner (University of Washington), Stacy Branham (University of California Irvine), Raja Kushalnagar (Gallaudet University), Susan Rodger (Duke University), and Dilma DaSilva (Texas A&M).
The program had three tracks for beginning, intermediate, and senior graduate students, as well as several plenary sessions that were attended by everyone. One of the plenary sessions was a panel discussion titled "Empowerment of People with Disabilities" that was moderated by AccessComputing student Ather Sharif (University of Washington) and featured panel members Richard Ladner, Raja Kushalnagar, and Susan Rodger. After brief introductions, Ather asked the panelists a number of questions—such as "Why is empowerment in higher education important for people with disabilities?" and "How can allies support and contribute towards the empowerment of people with disabilities?"—and allowed for audience questions afterward. Although the questions were about challenges that students with disabilities have in graduate school,
in most cases, the answers were applicable to students from other minoritized groups as well. Moving from disempowerment to empowerment can be a challenge for individuals from all these groups.
Other session topics included choosing a research topic, networking, career paths, communication skills, building professional personas, internships, master's versus Ph.D., overcoming insufficient academic preparation: perceived or real, industry versus academic research positions, overcoming failure, strategies for human-human interaction, school-life balance, publishing your research, finding an advisor, and preparing a thesis proposal. There were also several sessions for individual mentoring, advising, and resume reviewing, with additional time for informal mentoring at meals and in the evening. Since last year's workshop was online, it was wonderful to get to see everyone in person this year.
The CRA-WP, an AccessComputing Organizational Partner, also sponsors other career development workshops that have been attended by persons with disabilities. These include the Grad Cohort for Women and the Early & Mid-Career Mentoring Workshop.