2020 Trailblazer Award Winners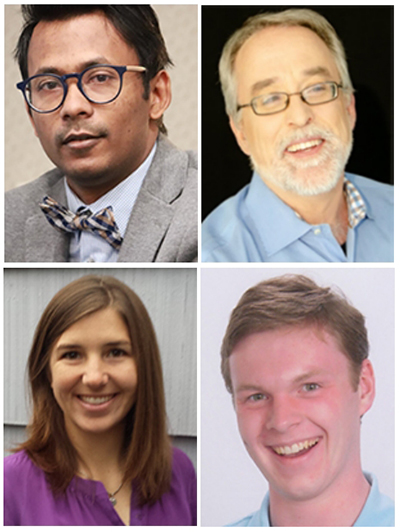 DO‑IT Trailblazer awards highlight DO‑IT community members who forge new pathways that benefit others. Through their hard work, they have changed the way the world views people with disabilities and have increased the potential of people with disabilities to succeed in college, careers, and community life. Congratulations to this year's honorees!
Ather Sharif, a team member of the AccessComputing project that DO-IT co-directs, has served as a leader and mentor dedicated to increasing the accessibility of information technology and the full participation of people with disabilities in computing. Ather is a Ph.D. student in the Paul G. Allen School of Computer Science and Engineering at the University of Washington, a software engineer at Comcast on the Core Application Platforms Team, and founder of EvoXLabs, an initiative dedicated to bridging the gap between technology and people with disabilities. Through EvoXLabs, Ather has mentored multiple AccessComputing team members in internships focused on accessibility. He has also partnered with DO‑IT to organize hackathons and conferences focused on accessibility.
Brett Humphrey has helped host the annual DO-IT Summer Study Microsoft visit for over a decade. Over the years, Brett has met with many DO-IT participants for mock interviews, collaborated with DO-IT participants at major assistive technology conferences, and spent time with students during Microsoft's annual Ability Summit. While at Microsoft, he has worked on game development tools and university partnerships, as well as worked on the Windows Accessibility Team. Brett's work has helped create a more accessible digital world.
Kat M. Steele, a collaborator in DO-IT's AccessEngineering project, has worked to ensure that information about disability, accessibility, and universal design is included in the engineering curriculum at the University of Washington (UW) and beyond. Kat is the Albert S. Kobayashi Endowed Professor in Mechanical Engineering and Associate Director of Center for Research and Education on Accessible Technology and Experiences (CREATE) at the UW. Her research focuses on integrating dynamic simulation, motion analysis, medical imaging, and device design to improve quality of life for individuals with neurologic disorders. Kat has actively participated in DO-IT Summer Study by hosting DO-IT participants in activities where they have learned about makerspace accessibility, engineering principles, and universal design. She has also developed resources and published articles with DO-IT staff on topics related to makerspace accessibility and teaching about accessibility in engineering.
Ryan Fox, 2009 DO-IT Scholar and now DO-IT Ambassador, is a remarkable and effective advocate. In high school, Ryan made a film about taking the train from Everett to King Street Station to educate people with disabilities about the experience. While an undergraduate student, Ryan shared his "Different Doesn't Mean Dumb" message with countless high school students. It is believed Ryan was the first student with autism to participate in Washington State's Senate Page Program. He also helped SeaTac airport staff in their quest to become the world's "most accessible airport" and helped them launch and build their "Wings for Autism" program. Ryan hosted a booth for many years at the Snohomish County Transition Fair and facilitated "Person Centered Planning" in a team setting. He has presented at the Washington State Youth Leadership Forum, encouraging students with disabilities to set challenging goals for themselves. Ryan's speeches to Special Education PTA groups in K-12 schools inspired many students to plan ahead for college. Ryan is currently communicating with the League of American Orchestras and the Auburn Symphony to promote sensory friendly offerings and enhance the accessibility of concerts. His accomplishments in symphonic percussion, music, aviation management, advocacy, and mentoring are spectacular!
To read about previous DO-IT Trailblazers, visit the DO-IT website.