2020 Annual Report Showcases Our Successes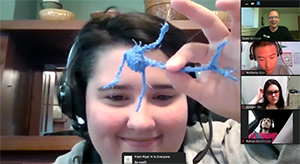 This past year brought with it a plethora of highs and lows and was both a challenging and rewarding year for Accessible Technology Services.
Converting programs from on-site to online formats was a common experience among most classes, programs, and experiences, but ensuring that all activities, interactions, and resources were accessible, usable, and inclusive of participants who have a wide range of disabilities, not to mention who are also teenagers, presented us with a unique combination of issues to address. I'm not surprised that Scott Bellman's DO-IT program staff and members of Terrill Thompson's IT Accessibility Team came together to overcome any challenge presented as they offered engaging academic content throughout the year, with our highlights being our Summer Studies, one for DO-IT Scholars and one for Neuroscience for Neurodiverse Learners. DO-IT participants connected with each other, learned valuable insights for being successful in college, gained skills in web design and in other areas, and got to share fun experiences with each other and staff.
Check out the 
ATS 2020 Annual Report
 for a summary of the 2020 accomplishments of the DO-IT Center and the IT Accessibility Team. Here's to hoping a great many more possibilities and successes for 2021.